2020 exhibits
Enjoy a look back at last year's shows…
(CLICK HERE to view the 2021 exhibits.)
---
Jan 24-Feb 27 2020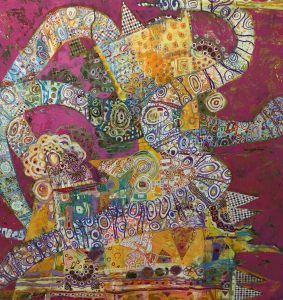 BBAC: Current Student Works (CLICK HERE for images & complete list of artists)
Grace Serra, juror
IMAGE: Untitled by Christina Haylett; mixed media
---
Mar 6-Jun 18 2020
View all the art from these four exhibits online – CLICK HERE.
Ed Fraga: Rising
CLICK HERE to read the Detroit News review of Ed Fraga: Rising.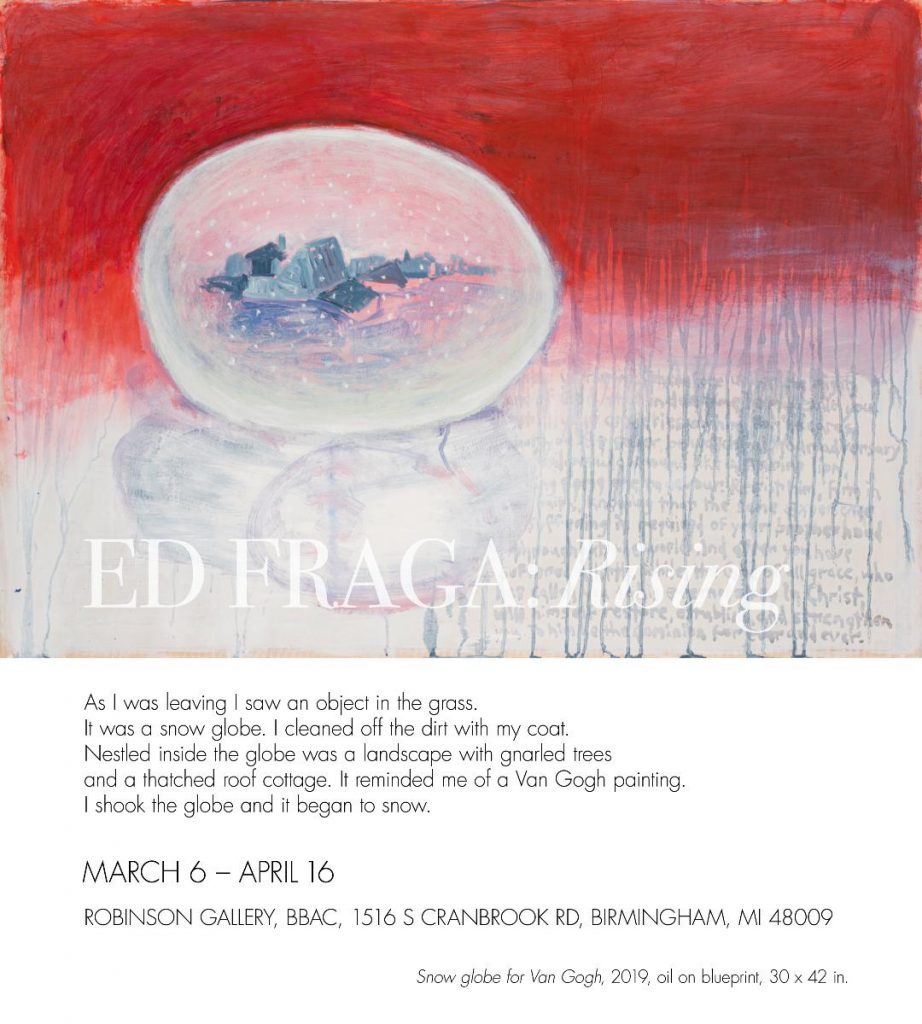 Fraga is a Detroit artist who earned a Bachelor of Fine Arts from Wayne State University in 1980.  His paintings, drawings, and artist books are in the permanent collections of the Detroit Institute of Arts, Cranbrook Art Museum and the Flint Institute of Arts. He has received fellowships and awards from the Adolph and Esther Gottlieb Foundation, the Kresge Foundation, the National Endowment of the Arts, and the Awards in the Visual Arts 8. Museum shows include MOCAD, the High Museum of Art, and the La Jolla Museum of Contemporary Art.
---
Glimpse: Fine Art Print Selections from Stewart & Stewart 1980-2020 / Celebrating 40 Years of Printing/Publishing Fine Art Prints
CLICK HERE to read a feature story in Detroit Art Review on this exhibit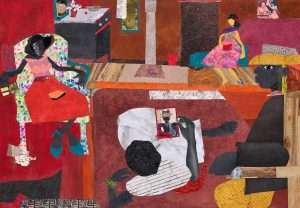 Judy McReynolds-Bowman – Mom in Harlem; 2020, archival pigment print, 22″ x 30″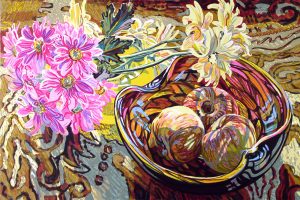 Janet Fish – Leyden, screenprint, printed/published by Stewart & Stewart
Image © 1991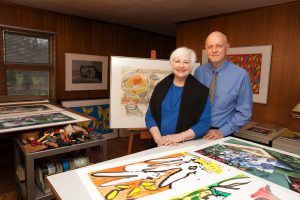 Image courtesy Laurie Tennent Studio
Stewart & Stewart (Bloomfield Hills) is one of the first printer/publishers inducted into the International Fine Print Dealers Association in New York and is among the longest running independent printer/publishers in North America. This exhibit celebrates their 40th anniversary of fine art printing, publishing and collaborating with artists.
Weatherly Stroh: Animal Dreams
CLICK HERE to read the Oakland Press article about this artist.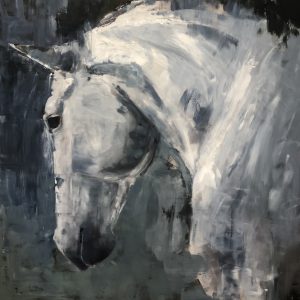 Grey Abstract, 36″ x 36″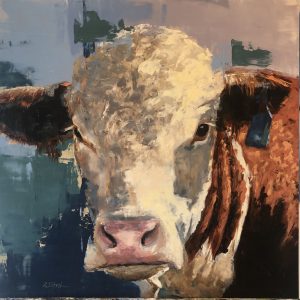 Sunlit Moo, 24″ x 24″
A Detroit native, Stroh comes from a long lineage of artists including sculptor Julius Melchers and American Impressionist painter Gari Melchers.  Continuing in the family tradition, Stroh is an oil painter and sculptor specializing in animal portraits and landscapes.
Students of Meighen Jackson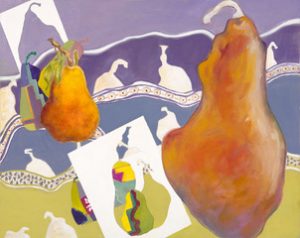 Pearsonality – Martha Zausmer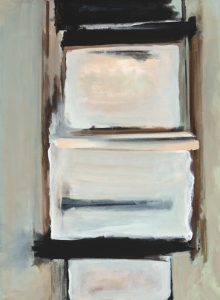 Stacked 4 – Elizabeth Buckner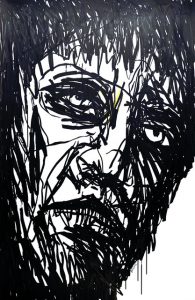 Untitled – Jeff Cancelosi
All Art is Abstract.  The only question is…to what degree?   If you paint or photograph a very representational image of a 1" square of grass, most viewers will interpret that image as a lot of "abstract"  lines on a canvas.  Conversely, we humans can and will convert almost any line with a circle on top…even a kitchen match…into an image of a human head and torso.   
When walking through a gallery,  I often ask myself, am I compelled to look at this painting…am I moved, challenged, intrigued, entertained, or seeing something I've never seen before?  Works in this exhibition may do one or all of these things. In so doing they present a very PERSONAL VISION of the world and ourselves.
– Meighen Jackson
---
Jul 10-Aug 27 2020
The Michigan Fine Arts Competition was entirely virtual this year. CLICK HERE to view our 39th annual exhibit.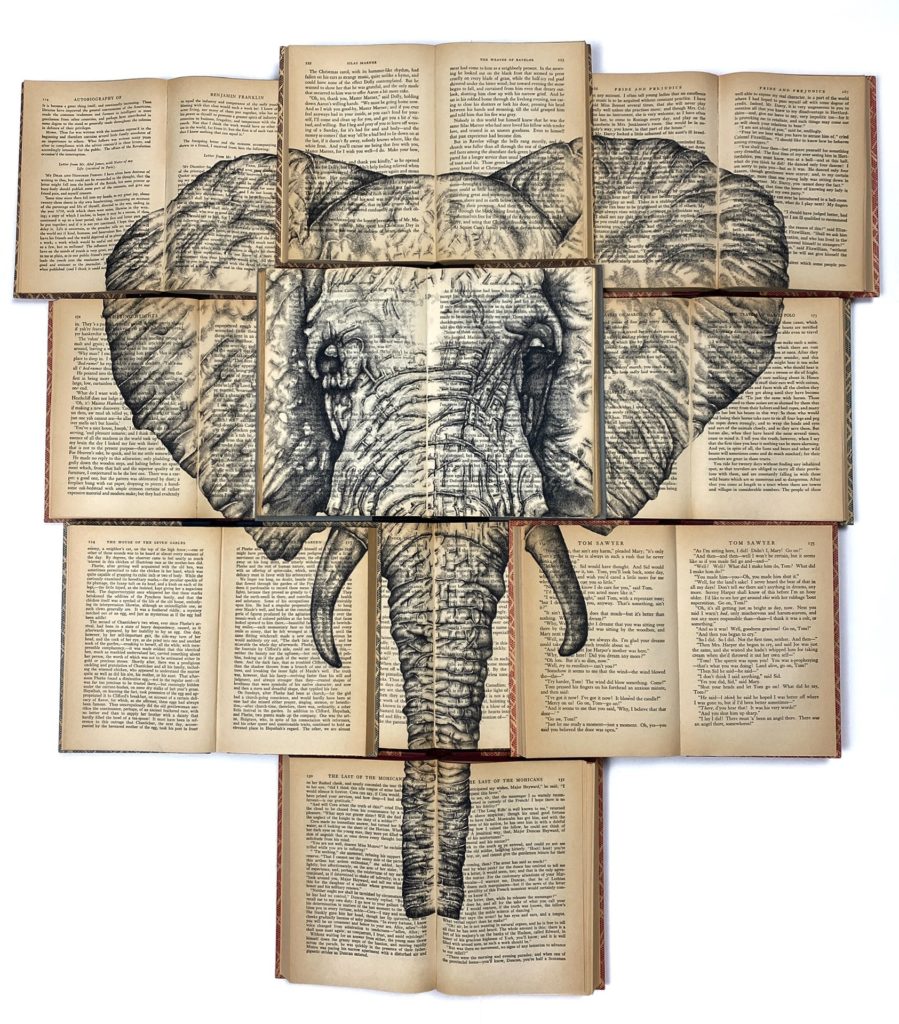 IMAGE: Ragnar by Megan Pecchia; charcoal on books; 31.5″ x 29″
---
Sep 11-Oct 8 2020
CLICK HERE for a Detroit News article about the Sue Marx show.
Images From History: People Who Defined Detroit in the 1960s
Photographs by Sue Marx

Sue Marx, Producer/Writer/Director, received her B.A. from Indiana University and her M.A. from Wayne State University. Early in her career, she taught high school, did social research, was a photojournalist and became the television producer of the long running, weekly prime time series, "Profiles in Black" for Channel 4 in Detroit. Sue Marx Films has produced a wide variety of award-winning films and videos. Marx, who has had a distinguished career in the Detroit area, is the guiding creative force who develops close connections between clients and their stories. She is a voting member of The Academy of Motion Picture Arts and Sciences (AMPAS) and serves on The Michigan Film Office Advisory Council (MFOAC).
To view the exhibit online, click here.
View the biography video of Sue Marx:
JURIED BY KEN HERSHENSON
This show will provide a sampling of the works of some 30 to 40 accomplished and award- winning artists, The multi-media show will include oils, water colors, acrylics, and pen & ink, ranging from small accent pieces to large-scale works. The BSWP, founded in 1944, provides mutual support and encouragement for its members and opportunities for exhibitions such as this one at the BBAC. Members are chosen through a highly selective process of nomination and portfolio review.
To view this exhibit online, click here.
A sampling from the show: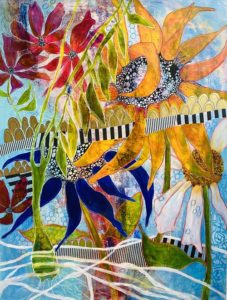 We Rise Beyond Boundaries by Chris Trombley, mixed media, $1800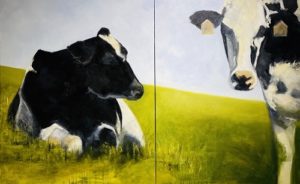 California Dreamin' by Kristen Carey, oil, $1800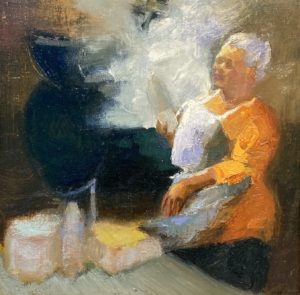 Saturday: Detroit Eastern Market by Eleanor Gause, oil on linen, $600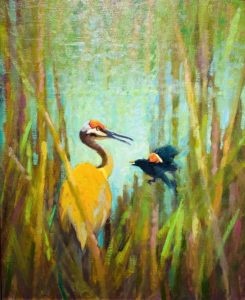 Defending the Nest by Helen Vlasic, oil on linen, $1000

An Imperfect Tool for Measuring an Impossible Mass, 41″ x 31″, $750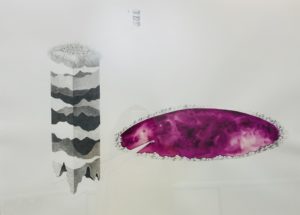 A WINE-DARK SEA BEFORE BLUE was FOUND (BEFORE BLUE was LOST), 41″ x 31″, $750
Corbin is a multi-disciplinary artist living in Detroit, Michigan. Her practice earnestly endeavors to unearth the space between home and land, human and non-human, wild and managed landscapes, and the connection to one another through geographic distance. Corbin's research-based practice moves between sculpture, installation, drawing, and bookmaking. Corbin received her BFA from Oregon State University and is an MFA candidate at Cranbrook Academy of Art. Recent awards include the Haystack Mountain School of Crafts Stuart Thompson Fellowship, a merit scholarship bestowed by Cranbrook Academy of Art, and research funding from Oregon State University's Sponenburgh Travel Award. She has exhibited work in California, Oregon, Michigan, Greece, and Italy. Her work was recently featured in the digital arts publication Collective Terrain out of Chicago, Illinois and Regular Style out of Missoula, Montana. CLICK HERE to visit her website.
Students of Timothy Widener
Timothy H. Widener has been a working artist and teacher for over 25 years, exhibiting his work throughout the United States, several times touring internationally including Japan and China. 
A sampling from the show: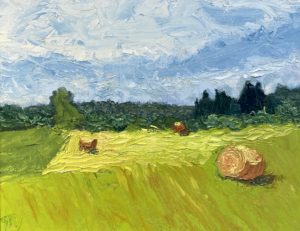 Last Chance by Maureen Bolton, oil, 11″ x 14″, $800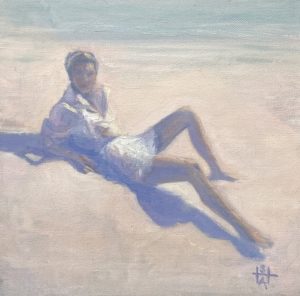 Sundial by Marcia Doolin, oil on canvas, 9″ x 9″, $650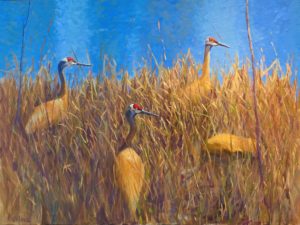 Sentinel Sandhills Cranes by Helen Vlasic, oil on linen, 30″ x 40″, $1000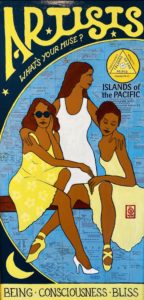 Artists, What's Your Muse? by Ron Maki, 16″ x 31″, $5000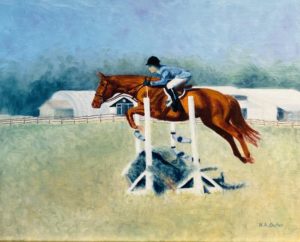 Heels Down by Nancy Outen, oil on linen panel, 16″ x 20″, not for sale
---
Oct 16-Nov 12 2020
Michigan Ceramics 2020: Biennial Exhibition & Competition by the Michigan Ceramic Art Association
Juror: Malcolm Mobuto Smith; click here to learn more about him. 
This biennial exhibition showcases the excellence and diversity of ceramic art from throughout Michigan and that of MCAA members in neighboring states. The Michigan Ceramics juried exhibition is one of few American exhibitions of its caliber operated entirely by artists.  The 2020 show  features 58 original works by 47 ceramic artists.
Vessel Awards in both categories are sponsored by the Williams Family Fund.
Emerging Artist Functional is sponsored by AMACO Brent.
Emerging Artist Sculptural is sponsored by Mayco Colors.
Take a video tour of this exhibition with the juror:
To view the entire exhibit online, click here.
A sampling: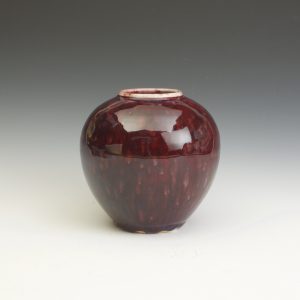 James Adair – Copper Red Winter Snow +
Susan Mankowski – Landscape Impressions (two views)
Russell Orlando – Those to These (two views)
Holly Ross – Soaked (second image is detailed view)
"My ability to find features, and notice moments unfolding has allowed me to thrive and better understand the power of community journalism." Elconin is an independent documentary photographer, currently based in Southwest Detroit.  Previously, she worked as a staff photojournalist at The News & Advance in Lynchburg, Va.  She holds a B.A. in Journalism from Michigan State University, and is pursuing a Master's of Science in Photography from the S.I. Newhouse School of Public Communications at Syracuse University.  Elconin is an alumnus of The Eddie Adams Workshop XXXI, a member of the National Press Photographers Association (NPPA) and the Women's Photographers of Washington (WPOW).  Her clients include Reuters and Bloomberg; her photos have been featured in The Washington Post, The Wall Street Journal, National Geographic, CNN and the New York Times, among several other publications. 
View entire exhibit online – click here.
A sampling from her exhibit: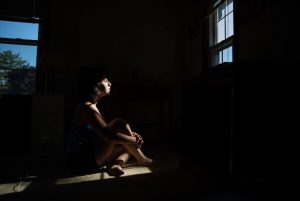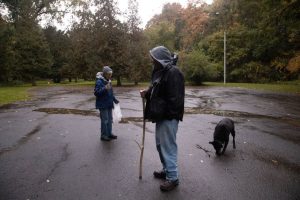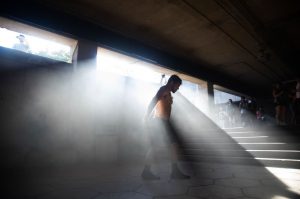 Tama, an artist and long-time BBAC instructor, claims nature as primary inspiration for her paintings.  Similar to her artwork, her students commonly use vibrant colors and intricate patterns and textures. 
To view the entire exhibit online, click here.
A sampling: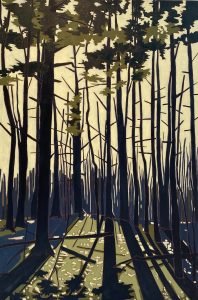 Andrea Tama – Yellow Sky – 24″ x 36″ – acrylic on wood panel – $1,500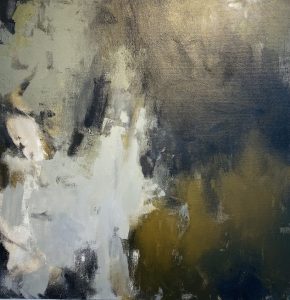 Susan Fiorello –Untitled – 24″ x 24″ – $450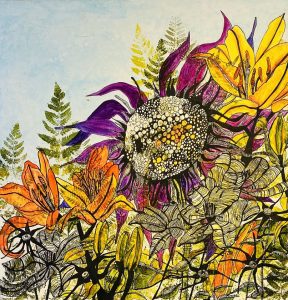 Chris Trombley – Garden Burst – 20″ x 20″ – $490
Heroes: Now & Then
The Detroit-based Mint Artists Guild works with talented visual artists, ages 13 to 21, to create career paths and entrepreneurial mindsets, economic opportunities and community beautification and engagement.  Mint teaches business, career and life skills, and provides opportunities to show and sell creative work in a variety of settings.  The "Heroes: Now & Then" exhibition features 15 small paintings that carry a big impact.  The work in the exhibition was created by 13 youth artists who participated in the Mint Creative Summer Jobs program. 
To view the rest of the paintings, click here.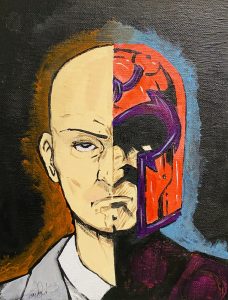 Tommy DuBose – Professor X & Magneto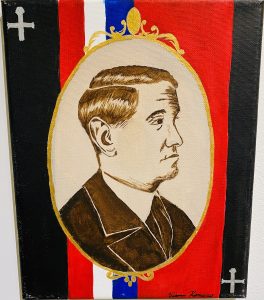 Vianca Romero – Willem Arondeus