Exhibitions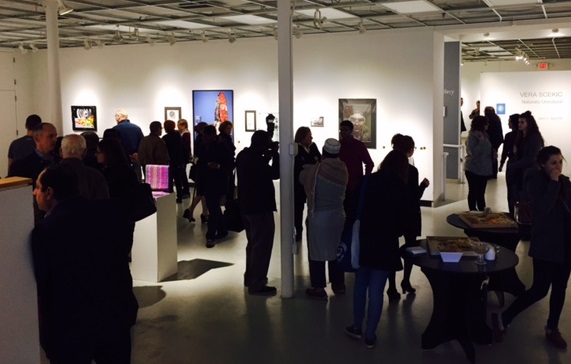 "If the Birmingham Bloomfield Art Center isn't on your radar as a place that mounts great shows, it should be." – Michael Hodges, Detroit News Fine Arts Writer
Artists interested in exhibiting @ the BBAC: click here for more information.
The general public is invited to come to the BBAC to see our exhibits – in groups of no more than four.  Masks must be worn at all times & social distancing must be observed. We will monitor exhibit-going traffic & may restrict entry depending upon the number of people in the galleries. (At this time, there will not be opening receptions for scheduled exhibits.)
BBAC EXHIBITIONS ARE SPONSORED BY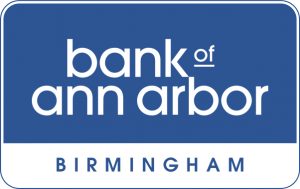 GALLERY HOURS: Mon.-Thurs., 10am-6pm; Fri.-Sat., 10am-4pm
NOTE: If you are interested in purchasing any of the exhibited art, you can do so at the BBAC during gallery hours, Monday-Friday, or phone 248.644.0866.
Click artist's name for their website (if available).
---
January 29-March 4

    2021 CURRENT STUDENT WORKS COMPETITION / Claudia Shepard, Juror

CLICK HERE for prospectus.
---
March 12-April 22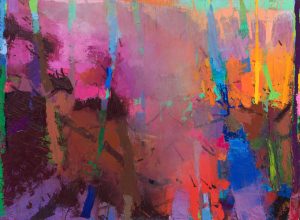 Corsair, oil on linen, 2017, 60″ x 82″
Widely considered to be one of the finest American painters of his generation, Brian Rutenberg has spent forty years honing a distinctive method of compressing the rich color and form of his native coastal South Carolina into complex landscape paintings that imbue material reality with a deep sense of place.
Brian received his BFA in 1987 from the College of Charleston and his MFA in 1989 from the School of Visual Arts, New York. He is a Fulbright Scholar, a New York Foundation for the Arts Fellow, a Basil Alkazzi USA Award recipient, an Irish Museum of Modern Art visiting artist program participant, and has had over two hundred and fifty exhibitions throughout North America. Rutenberg's paintings are included in such museum collections as Yale University Art Gallery, The Butler Institute of American Art, Bronx Museum of Art, Peabody Essex Museum of Art, Greenville County Museum of Art, Provincetown Art Association and Museum, South Carolina State Museum, and many others. His popular YouTube videos "Brian Rutenberg Studio Visits" are viewed daily by people all over the world. Radius Books published a full color monograph in 2008. Brian's book, Clear Seeing Place, was released in October 2016 and was an Amazon #1 bestseller. His new monograph, A Little Long Time, published by Forum Gallery in 2019 is also an Amazon bestseller. Brian received an Honorary Doctorate Degree from the College of Charleston where he delivered the 2018 commencement address.
Brian lives and works in New York City with his wife Kathryn and their two children.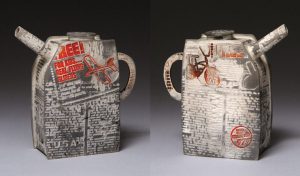 Real Teapot, porcelain, raku fired
"My story: For 30 years I have made my living in the advertising and marketing field. I am also an artist. But fine art and advertising rarely mix in a gallery. It took me too long to recognize, accept and convert my advertising aesthetics into a ceramic form of art. My art is different than traditional pottery, to say the least, but for me it is a comfortable form of expression. All my 'tools of the trade' are in play and funneled through my abilities as a designer and into the clay medium. Illustration, photography, typefaces, headlines, body copy, taglines, color, layout and package design. It's all in there – building a narrative. My ceramics (art) has embraced the dynamic advertising and communication methods of our American culture and applied them to anything and everything."
"In the creation of art, there is a chance to explore, to ask critical questions & to grow as a human. The process of creation is a connection to the world. Through artistic pursuits, I have a chance to create conversation, to think deeply about various subjects, to expose myself to history & to consider the human condition. Born and raised in Michigan, my earlier work was shaped by my experiences of small, rural, agricultural towns throughout the mid-west. However, as I've grown & matured as an artist, those original themes have given way to inward reflection & exploration of the human condition.
"Self-taught & heavily influenced by the history of printmaking, my work reflects various movements & themes found throughout art history. From the genre scenes of the French Barbizon & Hague School painters to the works of the Dutch Golden age artists, the influence is there in both style & technique. Where my work deviates from the more traditional style, influence from the Japanese Shin-Hanga movement, early twentieth-century children book illustrations & artists like Whistler & Turner can be found.
"With my work, though personal, I strive to create ubiquitous & timeless imagery that evokes memories from a viewer. What that memory will be is not for me to say, but for the viewer to feel. It is my experience that if you can evoke memories with visuals, it is always a positive, sentimental one — family road trips, departed family members, childhood homes, or first loves."
---
April 30-June 3
BBAC Faculty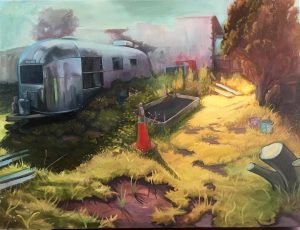 A Plot of Land by Clinton Snider
(This piece is not necessarily in the show but is representative of some of the art that will be shown.)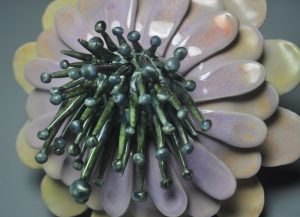 Florgasmic 5
Genevieve Vanzandt grew up in Southeast Michigan. Working at her family's cake bakery in her youth gave her a desire to work with her hands. Learning to sew and design her own clothes at a young age gave her a sense of artistic identity. She received a Bachelor of Fine Arts from Western Michigan University. She has been a resident artist and studio manager at Watershed Center for Ceramic Arts in Maine, as well as a long-term resident artist and instructor at Odyssey Center for Ceramics in North Carolina. She has assisted workshops at Penland School of Craft and Haystack Mountain School of Craft. She currently works in her Detroit studio. "The forest, the garden, and the sea are places that I draw inspiration from. The mysterious qualities and parallels of these ecosystems within the human experience are the source of my subject matter. Ingrained in stories from the beginning of time; Mythical fantasies are often set on a dark path to the forest, in a marvelous garden, or based in our fascination with the other worldliness of the sea. We can look at these myths as poetic ways to find significance in our lives. We are rooted in these natural places that somehow have escaped our daily lives. Humans are able to find a sense of tranquility when they retreat to the woods, tend to a garden, or stare across the ocean. These environments give us the ability to look inward and find subtle answers to life's questions."
Students of Leslie Masters
---
June 18-August 19
40th Annual Michigan Fine Arts Competition
Stay tuned for prospectus & announcement of 2021 juror.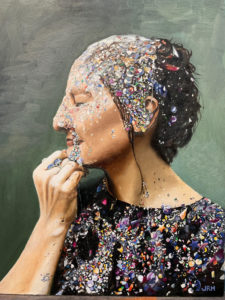 Drenched by Jessica Hosmer; oil, 24″ x 18″ – from 2020 exhibit
---
August 27-September 23 
Birmingham Society of Women Painters
+ 3 TBA
---
October 1-November 4
Students of Fran Seikaly
+ 3 TBA