Exhibitions
"If the Birmingham Bloomfield Art Center isn't on your radar as a place that mounts great shows, it should be." – Michael Hodges, Detroit News Fine Arts Writer
BBAC exhibitions are always free & open to the public, as are the opening receptions (opening night, 6-8pm).
Gallery hours: Monday-Thursday, 9a-6p; Friday-Saturday, 9a-5p
Interested in exhibiting @ the BBAC? CLICK HERE.
2017 EXHIBITIONS
Mar 10-Apr 21
Melis Agabigum: May the Bridges I Burn, Light the Way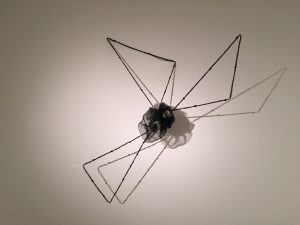 Stand Here and Hold This for a Second, For Me, Will You? by Melis Agabigum
Melis Agabigum is an educator & studio artist from Michigan. She received her MFA in 2016 from the University of Wisconsin-Milwaukee in Intermedia: Jewelry/Metals, Installation Art, Sculpture & Fibers, & received her BFA in Art & Design from the University of Michigan. In addition to her personal practice, she has worked as a studio assistant to metalsmith artist Arline Fisch, and sculptor William Dennisuk. She has taught 2D and 3D studio courses at the University of Michigan & University of Wisconsin-Milwaukee. Currently, Melis is an Adjunct Instructor in the Art Metals program at Boise State University in Idaho.
Provoked by an interest in material fiction, Melis' work examines loss, repetition & the notion of burden that individuals carry from their relationships. Her soft sculptures explore the unseen tether of the physical & emotional weights that affect individuals in how they perceive their connection to others, their bodies & space. Her work has been shown at the national and international level in shows such as: Metallophone: Bonds: Lithuania; Jewelry and Cinema in Porto, Portugal; #StickitSNAG Platforma Gallery Boston MA; & Resolutely Ambiguous at the Walker Art Museum in Minneapolis MN. 
For more about Agabigum: her website & an interview with her from 365 Days, 365 Artists: A Frank Juarez Gallery & Greymatter Gallery Collaborative Project
Carlo Vitale & Patrick Burton: We Two
L – Topographic Map – Blue (detail) – oil on canvas, 4'x10′ by Carlo Vitale; R – My Life Lies Elsewhere by Patrick Burton
What links the paintings of Patrick Burton & Carlo Vitale together is the spiritual intensity by which they approach their artistic practice. Both have invested years developing their own personal voice & work in a meticulous & obsessive nature. For Patrick, words are essential components that comprise his wood panels. Beauty, Harmony, Elegy, and Love are just a few words that come to mind when experiencing his art. For Carlo, music is essential to his paintings. He believes in the kinetic energy between music & art making. Carlo's paintings draw similarities to the optical and mathematical constructs of a painter like George Seurat. 
Vitale was born and raised in Detroit, and has been active in the Detroit art scene since the 1970s. His work is influenced by agricultural themes along with colorful imagery. Burton was also born in Detroit and lives there now. His richly ornate paintings mix folk art and popular culture.
See Carlo Vitale's website – click here.  Read about Patrick Burton here in Essay'd.
Gwenn Rosseau: Stillwater | Silentwater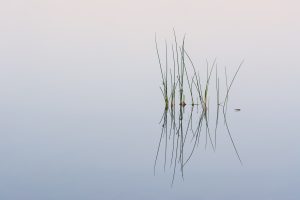 Reeds (photograph; 21″ x 14″) by Gwenn Rosseau
Rosseau is a lifelong metro-Detroiter & insatiable traveler. Her current ethereal photographic work explores the essential sublimity & solitude of nature. Click here for her website.
Students of Laura Beyer: Print & Paper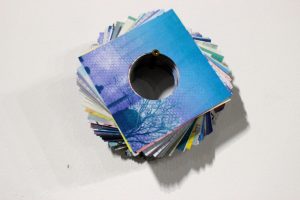 Die Cut Study (2016) by Laura Beyer. Note – this piece is intended to illustrate the work of artist & BBAC instructor Laura Beyer.
Apr 28-Jun 9
Michael Scoggins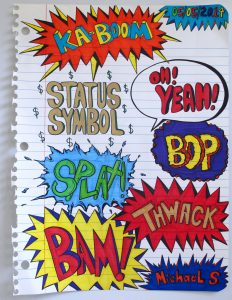 Explosion Drawing #4 by Michael Scoggins (© Michael Scoggins 2017)
Rives Rash
TBA
Students of Anatoly Shapiro (painting)
Jun 23-Aug 25
Michigan Fine Arts Competition – Noel Anderson, Juror
Sep 8-Oct 13
Russ Orlando
Christine Ritchie & Kip Kowalski
Students of Lori Thomas (quilting)
Oct 20-Nov 15
TBA
Birmingham Society of Women Painters
Jan 27-Mar 2
BBAC Current Student Works Competition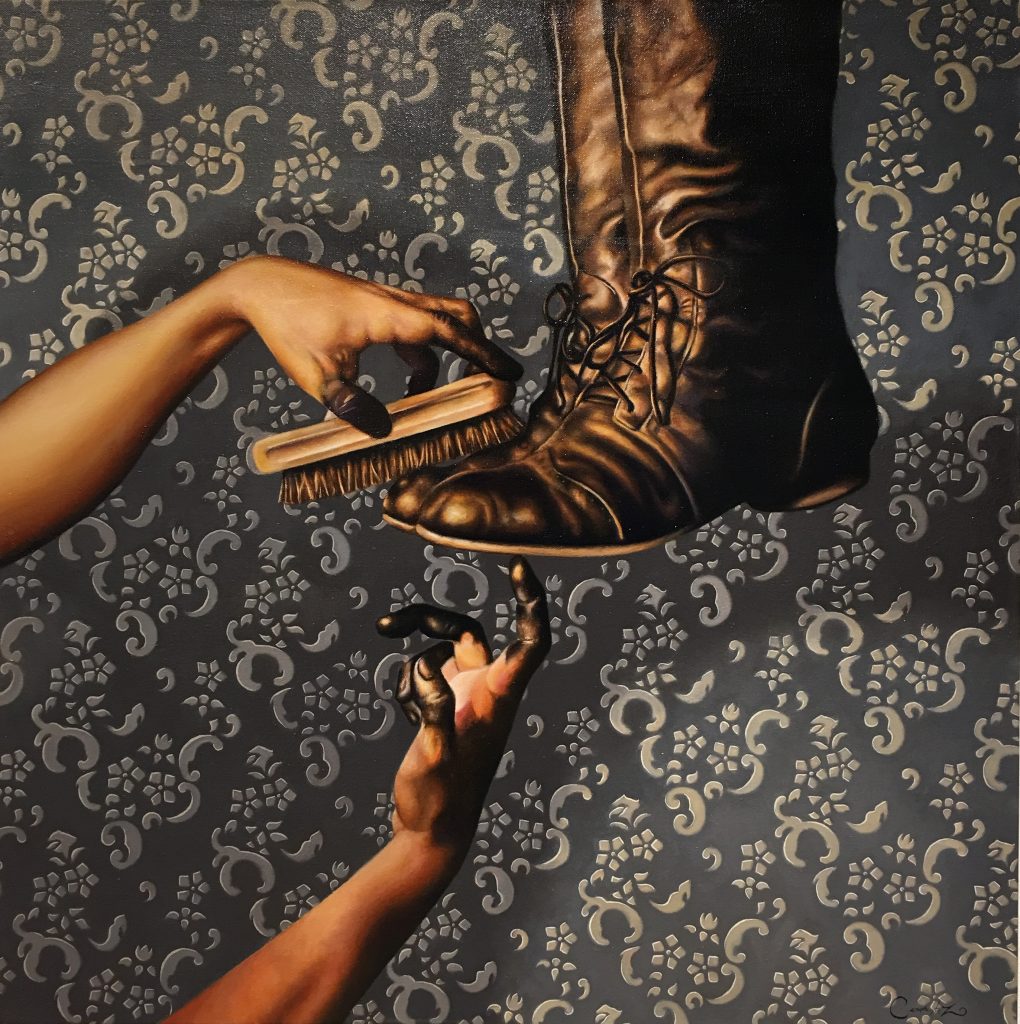 Final Touch (oil on canvas; 30″ x 30″) by Vincent Cervantez – BBAC President's Award
(BBAC students – click here for more details!)
(as of Feb 15 2017)