Exhibitions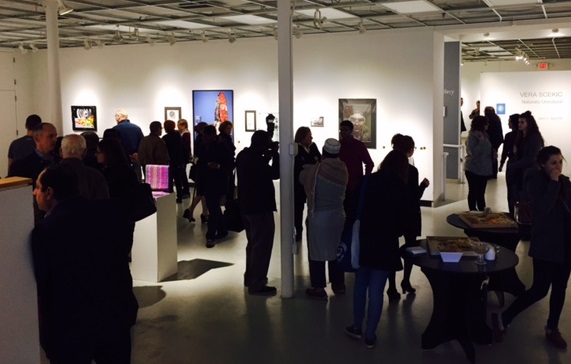 "If the Birmingham Bloomfield Art Center isn't on your radar as a place that mounts great shows, it should be." – Michael Hodges, Detroit News Fine Arts Writer
Artists interested in exhibiting @ the BBAC: click here for more information.
The general public is invited to come to the BBAC to see our exhibits – in groups of no more than four.  Masks must be worn at all times & social distancing must be observed. We will monitor exhibit-going traffic & may restrict entry depending upon the number of people in the galleries. (At this time, there will not be opening receptions for scheduled exhibits.)
GALLERY HOURS: Mon.-Thurs., 10am-6pm; Fri.-Sat., 10am-4pm
NOTE: If you are interested in purchasing any of the exhibited art, you can do so at the BBAC during gallery hours, Monday-Friday, or phone 248.644.0866.
Click artist's name for their website (if available). Click an image for a larger view.
---
March 12-April 22
"As Michiganders crawl out of the winter and the Covid-19 pandemic (be it as slow as it is), we are greeted by the BBAC exhibitions that make it worth our time for a visit." Read the April 3 Detroit Art Review commentary of the Rutenberg & Fisher exhibits –  click here.
Sponsored by Andrea & Ely Tama + Annie & Glenn VanGelderen
CLICK HERE to view the show virtually.
CLICK HERE to watch a video prepared by Rutenberg for this exhibit.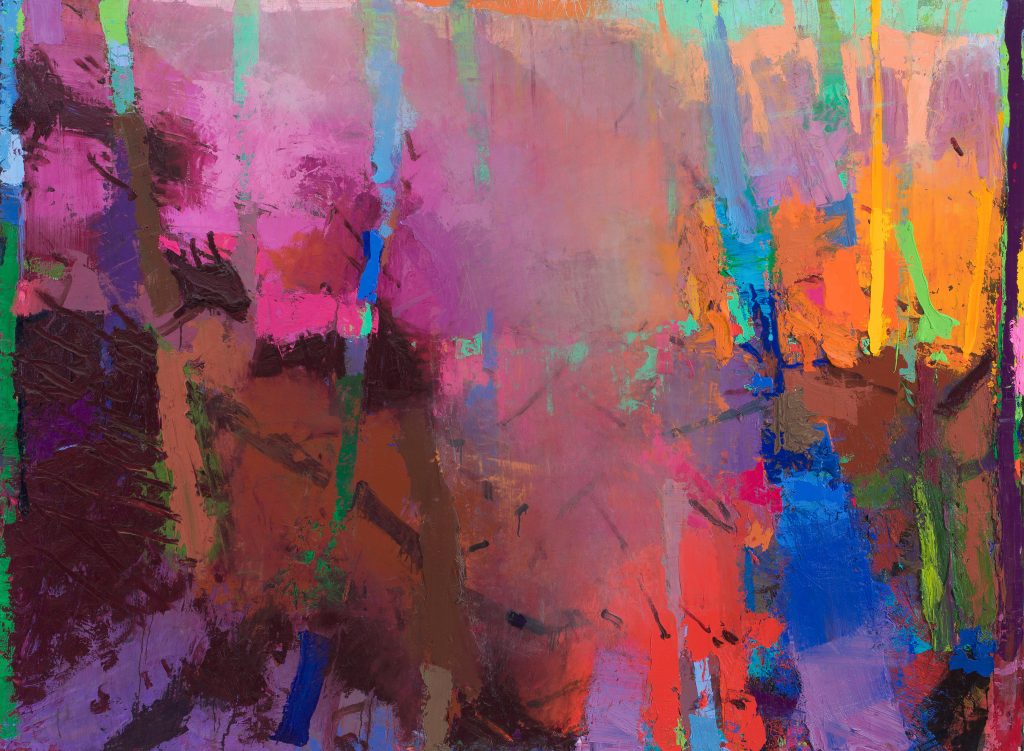 Corsair, oil on linen, 2017, 60″ x 82″
© Brian Rutenberg, courtesy of Forum Gallery, New York NY 
Widely considered to be one of the finest American painters of his generation, Brian Rutenberg has spent forty years honing a distinctive method of compressing the rich color and form of his native coastal South Carolina into complex landscape paintings that imbue material reality with a deep sense of place.
Brian received his BFA in 1987 from the College of Charleston and his MFA in 1989 from the School of Visual Arts, New York. He is a Fulbright Scholar, a New York Foundation for the Arts Fellow, a Basil Alkazzi USA Award recipient, an Irish Museum of Modern Art visiting artist program participant, and has had over two hundred and fifty exhibitions throughout North America. Rutenberg's paintings are included in such museum collections as Yale University Art Gallery, The Butler Institute of American Art, Bronx Museum of Art, Peabody Essex Museum of Art, Greenville County Museum of Art, Provincetown Art Association and Museum, South Carolina State Museum, and many others. His popular YouTube videos "Brian Rutenberg Studio Visits" are viewed daily by people all over the world. Radius Books published a full color monograph in 2008. Brian's book, Clear Seeing Place, was released in October 2016 and was an Amazon #1 bestseller. His new monograph, A Little Long Time, published by Forum Gallery in 2019 is also an Amazon bestseller. Brian received an Honorary Doctorate Degree from the College of Charleston where he delivered the 2018 commencement address.
Brian lives and works in New York City with his wife Kathryn and their two children.
CLICK HERE for more about this exhibit.
Note: Price ranges for Fisher's work – Bottles start @ $90; small slab forms, $110-$130; plates, $125; framed potsherds, $125.
Please phone for more details: 248.644.0866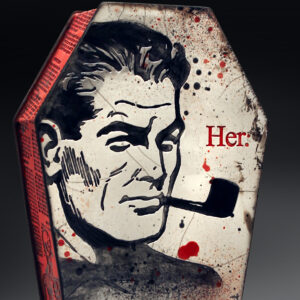 Her (detail) – slab-built & thrown stoneware, press mold porcelain, Raku fired, reduction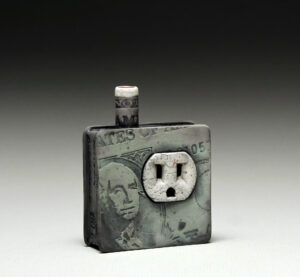 Past Due – slab-built porcelain, Raku fired, reduction 
Advertising has recalibrated my brain. Forty years of working in the marketing community has saturated and skewed my aesthetic away from traditional art expression. My mind prefers graphics, headlines, logos, body copy, photos, illustrations, taglines and any other marketing tool to express my creative thoughts. These are the tools I use to build narratives and fabricate impossible consumer products out of clay. I call them Pop Artifacts. Sculpted, cast, pressed, or thrown, these ceramic objects represent the desires we chase in the hope of capturing satisfaction.
I want to declare a heart-felt 'Thank You' to the Birmingham Bloomfield Art Center. My first experience with The BBAC occurred a decade ago on March 5, 2011, to present a workshop. Since then, we have interacted with exhibitions, exhibition catalogs, classes, and workshops. The BBAC provides the essential ingredients a healthy community needs: the supportive warmth of friendship, a secure place to grow as an artist, a forum to present creativity, and the integrity and strength to make a difference within the community. Thank you.
– Frank James Fisher
"Between Romanticism & Realism, within the mediums of intaglio & painting, hope resides in my work's ideas & themes. It is in these mediums, I find an innate intimacy in creating miniature work.
"I believe there is an inherent beauty in the experience of creating small works that require intimate interactions. In such a small scale, a single mark often has to represent or suggest form, mass, light, & emotion, & these small suggestive marks can render out ideas & details much more expansive than themselves. But in those marks, I can lose myself in the hope of what I saw or thought during their creation.
"However, once completed, creation allows the work to move beyond my intent into the world. It will enable it to mature & take on others' stories as they see fit. In my works' miniature & small scale, details & exactitude in an image's conceptual underpinning can be distilled down to the most hopeful of elements, allowing others the opportunity to make the work their own.
"For some, this draws them nearer. This interaction takes a commitment on the viewer's part, a curiosity to obtain the knowledge of what is. For they must give a moment of themselves to gain the return of seeing. At this moment, something nearly magical happens; in the near abstractness of seemingly random small marks, an image is born in their mind. It becomes an opportunity to build out the imagery with their own ideas of what they see, the stories they want to hear. As a viewer walks away, they take with them that which they saw.
"One must get near enough to see an image, often so much so that they might lose a sense of our world's surrounding largeness, rendering themselves momentarily vulnerable. These moments lend themselves to a more open reading of the stories that they see. To see hope in whatever form they so choose.
"Each work is presented framed in such a way as to allow it its own space to be what it needs. The large matting suggests a world through the window in which you look, allowing landscapes to roll out before you & to believe in hopes of little details that might not be seen.
"It would be remiss of me not to consider the time & events in which these works are currently being viewed. The pandemic has shaken so many in profound ways beyond what they could have ever imagined. As such, I want nothing more than for this opportunity to be a catalyst & opportunity to take a deep breath, pause, & allow yourself a moment of hope."
~ J.A. Richard
Here is just a sampling of paintings in this exhibit; for a larger view, click on the image. (If interested in purchasing, phone 248.644.0866.)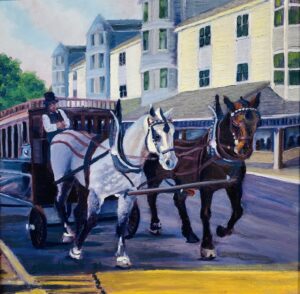 Sue Brodbeck – Grand Hotel Taxi, oil on board, $600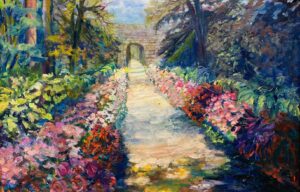 Rosemary Bunea – Garden Path, oil on canvas, $1600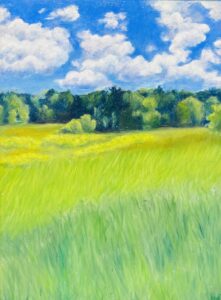 Kim Coleman – Lower Meadow in July, oil on panel, $270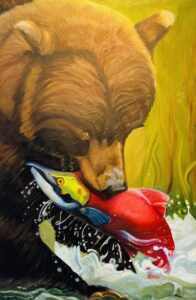 Lin Deahl Coy – Salmon Run, oil on canvas, $1200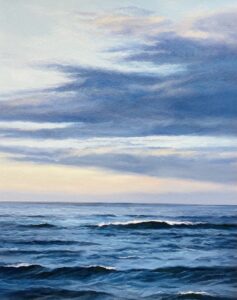 Edward Duff (instructor) – Ebb & Flow, oil on panel, $1300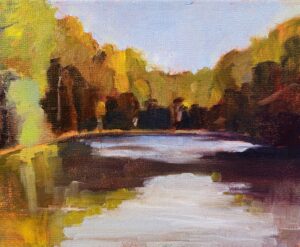 Harah Frost – Johnson Nature Center, oil on canvas, $150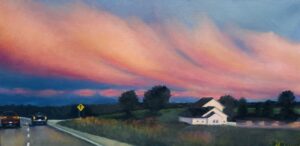 Heidi Geissbuhler – I-75 Sunset, oil on canvas, $800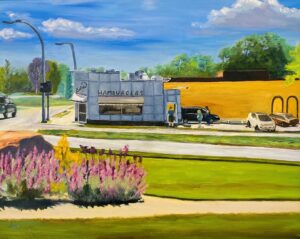 Barb Glover – Bates Hamburgers, oil on board, $900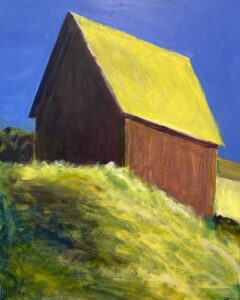 Sid Goldstein – Vermont Barn, acrylic on canvas, NFS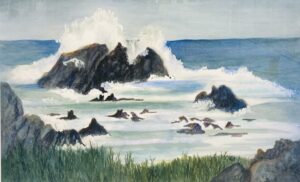 Maggie Greene – Water + Wind + Rock, watercolor on paper, $1000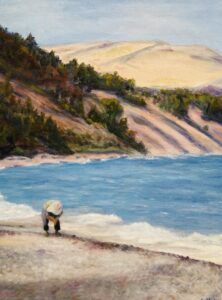 Susan Hahn – The Agate, oil on canvas, NFS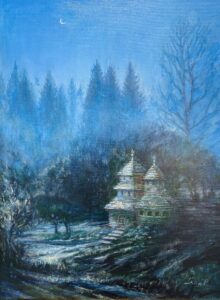 Luba Kytasta – Carpathian Nocturne, oil on canvas, NFS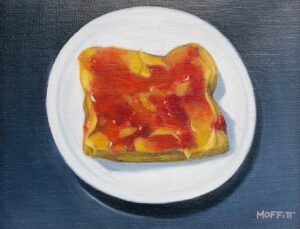 Ron Moffitt – PB & J, oil on canvas, NFS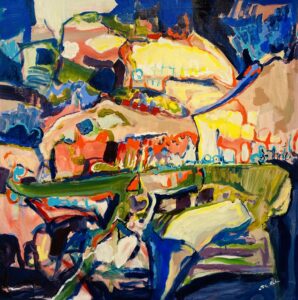 Steve Rubin – Up, Up and Away, acrylic on canvas, $1000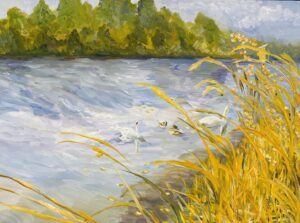 Joe Snover – Ducks in the Water, oil on canvas, NFS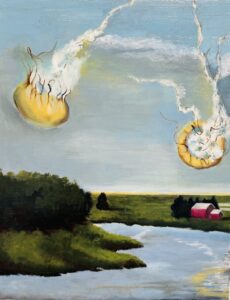 Mary Lou Stropoli – Jellies Over Eastham #1, acrylic on canvas, $500
The Students of Edward Duff exhibit features paintings created under the training of London-born and Michigan-raised Duff, who studied at Detroit's College for Creative Studies and Wayne State University.  A member of the Oil Painters of America and the National Oil & Acrylic Painters' Society, Duff, who has gallery representation in Michigan and Tennessee, has served on the BBAC faculty since 2014.
---
April 30-June 3
BBAC Faculty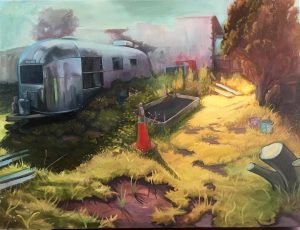 A Plot of Land by Clinton Snider
(This piece is not necessarily in the show but is representative of some of the art that will be shown.)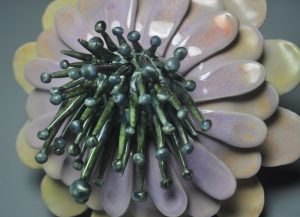 Florgasmic 5
Genevieve Vanzandt grew up in Southeast Michigan. Working at her family's cake bakery in her youth gave her a desire to work with her hands. Learning to sew and design her own clothes at a young age gave her a sense of artistic identity. She received a Bachelor of Fine Arts from Western Michigan University. She has been a resident artist and studio manager at Watershed Center for Ceramic Arts in Maine, as well as a long-term resident artist and instructor at Odyssey Center for Ceramics in North Carolina. She has assisted workshops at Penland School of Craft and Haystack Mountain School of Craft. She currently works in her Detroit studio. "The forest, the garden, and the sea are places that I draw inspiration from. The mysterious qualities and parallels of these ecosystems within the human experience are the source of my subject matter. Ingrained in stories from the beginning of time; Mythical fantasies are often set on a dark path to the forest, in a marvelous garden, or based in our fascination with the other worldliness of the sea. We can look at these myths as poetic ways to find significance in our lives. We are rooted in these natural places that somehow have escaped our daily lives. Humans are able to find a sense of tranquility when they retreat to the woods, tend to a garden, or stare across the ocean. These environments give us the ability to look inward and find subtle answers to life's questions."
Students of Leslie Masters
---
June 18-August 19
40th Annual Michigan Fine Arts Competition
CLICK HERE for the 2021 MFAC Prospectus.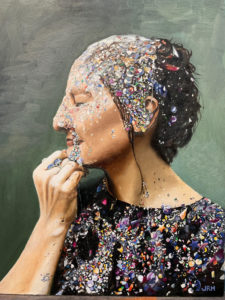 Drenched by Jessica Hosmer; oil, 24″ x 18″ – from 2020 exhibit
---
August 27-September 23 
Art is an expression of one's self, a way to convey the deepest emotions within the heart. Artist Armando Pedroso does just that with his beautiful abstract paintings. Using materials as diverse as acrylic paint & roofing tar, as well as special techniques, such as blow torching, Armando creates art that is unlike anything else. Armando deconstructs & reconstructs a variety of materials to create his unique paintings.
+ 2 TBA
---
October 1-November 4
Students of Fran Seikaly
+ 1 TBA
---
---
January 29-March 4

    2021 CURRENT STUDENT WORKS COMPETITION / Claudia Shepard, Juror

"CONGRATULATIONS to all those who entered this show of great variety, meaning and beauty. With so many entries, I tried to be very thoughtful about criteria I use in looking at each of your works. IMPACT (presentation ) —what draws me in to look more carefully at the formal elements that carry the intention or concept— that is whether acrylic, oil or mixed media—realistic or abstract; composition, balance, range of value relationships as well as spatial relationships and, of course, craftsmanship, in the expressive processes are all part of my considerations when looking at each work. When looking at the variety of ceramics, jewelry, and textiles I look for inventiveness and craftsmanship as well."  ~ Claudia Shepard, Juror

This annual, favorite exhibit features artwork in a variety of media by BBAC adult students – more than 160 pieces. Here is a sampling (click each image for larger view). CLICK HERE for more images & awards.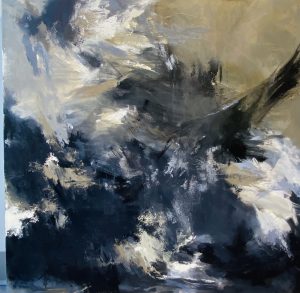 Storm by Susan Fiorello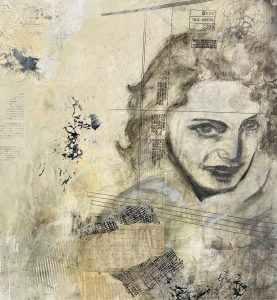 Vogue by Joy Levran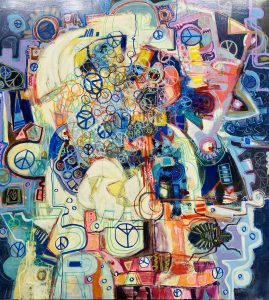 Peacemaker by Christina Haylett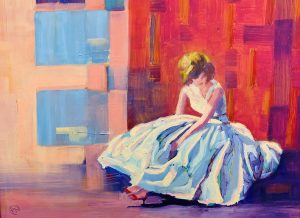 Wallflower by Kate Neville
CLICK HERE for more images & complete list of artists in the exhibit.
CLICK HERE for exhibition prospectus.
Images by Annie VanGelderen