ArtBridge in Detroit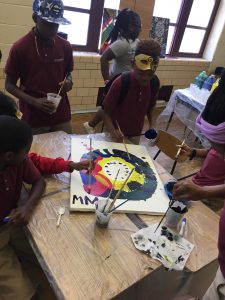 In 2016, the BBAC adopted a Detroit middle school, MacDowell Preparatory Academy, which had to eliminate its art programming in 2010. We provide a weekly art curriculum for K-8th grade students, along with a weekly after-school art program open to all students.
The BBAC provides the instructor & all materials at no charge to the school or students.
Our scholars have been exposed to art due to our partnership with the Birmingham Bloomfield Art Center.  Without this program, our scholars would receive no form of art education due to budget restrictions as well as teacher vacancies in our staff recruitment efforts. Because of our partnership, our scholars now are able to have a weekly art class as well as an art club after school. The art club after school has kept our scholars engaged in productive learning after dismissal.  The staff at the Birmingham Bloomfield Art Center has ignited a love of art in many of our scholars.  We are extremely grateful for this continued partnership. 
– Anisa Proud, Assistant Principal, MacDowell