Policies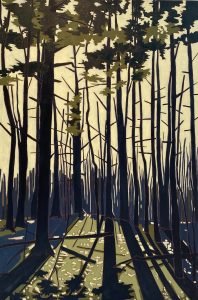 Andrea Tama – Yellow Sky – 24″ x 36″ – acrylic on wood panel – $1,500
---
POLICIES
You can register online for classes & workshops 24/7* by clicking here. You can also become a member at any time. If you plan to take classes as a member, purchase your membership prior to registering for classes in order to get the $40 membership discount. Costs for classes, camps & workshops consist of BBAC tuition fees (variable) & a $10 facility fee (paid once per term, per student). Some classes, camps & workshops may also have a materials &/or model fee attached depending on the course of study.  Class sessions, workshops and camps are non-transferrable from person to person, without exception.
* Online registration not available during the three days of Contributing Member Registration (walk-in and phone only.)  Online registration for members begins on the first day of Basic Member Registration & is open to the public the week after.
TUITION REFUND POLICY
No refunds or partial refunds will be issued on or after the first day of class. TUITION REFUND POLICY / Withdrawing from a Class
Must be 7 days prior to the first day of class (or before). A refund less a $25 processing fee will be issued.
Must be 6 days prior to the first day of class, but not including the first day of class. A 50% tuition-only refund, less a $25 processing fee will be issued. There are no refunds on workshops or memberships.
CLASS TRANSFERS
During the first week of classes, a student may transfer to another class offered during that same term. There will be no transfer fee applied at this time. Only one transfer is allowed without incurring a transfer fee.
After the first week, or during the second transfer, a $25 transfer fee will be assessed.
If applicable, all additional fees of the new course must be paid at the time of the transfer.
Students may not transfer from a class to a workshop.
There are no refunds on membership or visiting artist workshops . Questions? Phone 248.644.0866.
INCLEMENT WEATHER OR EMERGENCY CLOSINGS
Due to inclement weather or an emergency, the BBAC will announce the cancellation of classes on its phone system recording at 248.644.0866 & website homepage. BBAC faculty and students are responsible to call & listen to the phone system recording or check the website to determine whether or not their class will be held. Class sessions cancelled for inclement weather or emergencies by the BBAC will be rescheduled whenever possible.
BBAC FACILITY SAFETY, SECURITY & EFFICIENCY – FOR THE BENEFIT OF STUDENTS & STAFF
MORNING SCHEDULE
Facility Staff at the BBAC will arrive by 7:45 AM (or earlier to clear snow and ice), secure the building, assure classrooms are prepared, and assist instructors in any set-up necessary
Instructors/aides may come in at 8am or after to set up
Doors open at 8:30am for students
Classroom doors open at 8:45am for 9am classes
EVENING SCHEDULE
All exterior doors except North entrance will be locked at 7:30pm for building security and student safety
GENERAL
Classrooms should be vacated within 15-20 minutes of class ending to allow staff time to set-up/clean for next class
The BBAC is dedicated to making an enjoyable, safe and secure environment for students and visitors.
CLASS CHANGES
The BBAC reserves the right to withdraw or change classes, instructors, or schedules; to revise tuition & fee structures; and to amend it policies as necessary for the smooth and efficient operation of the institution.
PROMOTIONAL PHOTOGRAPHY
The BBAC reserves the right to photograph activities, artwork &/or social events held on the BBAC campus & at offsite locations. BBAC students, members, guests, & works of art from the studios or exhibition areas can all be subjects of interest. Images may be used for the BBAC's educational & promotional purposes unless otherwise notified in advance by any student, patron or visitor.
GIFT CERTIFICATES
BBAC gift certificates may be purchased from the office & are good for up to five years from the date of purchase. May be used for class tuition, membership, & purchases from exhibitions & the Gallery Shop.