Scholarships
Thanks to many donors, the BBAC is pleased to offer scholarship funds for those with financial need: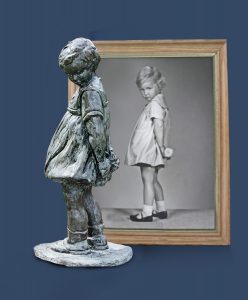 Jeannie Anderson Scholarship Fund (image above: a sculpture by Jeannie Anderson of her daughter; that sculpture is among the trees on the hill at the BBAC's north entrance)
Charles McGee Scholarship Fund
Joshua Ari Marks Art Scholarship Fund
Ricki Berlin Scholarship Fund
BBAC General Scholarship Fund
Connie McEwan Scholarship Fund
Jo Saltzman Scholarship Fund
Charles H. Torner Scholarship Fund
Randi Cara Garfield Scholarship Fund (for high school students)
If you'd like to make a scholarship donation, click here. (You can designate which fund you wish to donate to or name the "general scholarship fund.")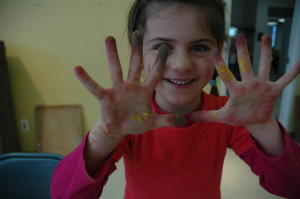 SCHOLARSHIP GUIDELINES
Both adults and youth may apply for a scholarship.

Applications must be made four weeks before the start of a term.  If a deadline is missed, the application will be retained for the next term.

Scholarships are based on financial need and, if applicable, merit.   If merit based, the applicant is asked to include a "letter of intent."

Scholarships must be used for the term issued. If the class is cancelled, the funds will be valid for the immediate next term. No cash equivalents or refunds apply at any time.

Awarded funds do not apply to model or materials fees. If these fees apply, costs are to be paid by the recipient. Additionally, the student might be responsible for purchasing course materials.

The scholarship is not retroactive. Be aware, funds will not apply to previous enrollment(s).

Scholarships are not renewable.  In fact, they are valid only for the specified term.

Students can apply once a year for a BBAC scholarship.
THE APPLICATION
The application must be completed and submitted. Download the application and please submit it by mail, fax, or in person (BBAC, 1516 S. Cranbrook Rd., Birmingham MI 48009; fax: 248.644.7904).

The following documents (as applicable) must be submitted. If you are completing the online application, please mail the documents to "BBAC Scholarship, 1516 S. Cranbrook Rd., Birmingham MI 48009."

A letter of intent is required. Clearly state your reasons for applying. The BBAC is most interested in your artistic passion but financial considerations should be included. Further, youth in grades 3-12 should write their own letter about their experience with art; for children in PreK-2nd grade, that letter  may be written by a parent, teacher, or guardian.

One or two letters of reference are required OR provide contact information for references.

Applicants grades PreK-12 must submit images or samples of artwork (3-4). Originals will be returned.
THE PROCESS
The BBAC's Scholarship Committee reviews all submissions and determines which fund is applicable.

Applicants will be notified by email or phone as to whether or not funds will be awarded.

Submit applications to Susan Owens.
CLICK HERE to download & complete the application.
QUESTIONS? Contact Susan Owens / SusanOwens@BBArtCenter.org or 248.644.0866 x 128
---