BBAC Faculty
BBAC instructors are all professional artists, many of whom teach at schools like College for Creative Studies, University of Michigan, Wayne State University, Eastern Michigan University and Oakland Community College. Here is just a sampling (click the artist's name for their website).

Del Ray– 2012; oil on board; 4.5″ x 11.5″ "…It's his city scenes that grab and won't let go. "Haunting" is much overused in art writing, but that's the best word for these collapsing houses and lonesome urban vignettes. They ' re spooky, sad and improbably beautiful." – From an exhibit review by Michael Hodges, Detroit News, May 2012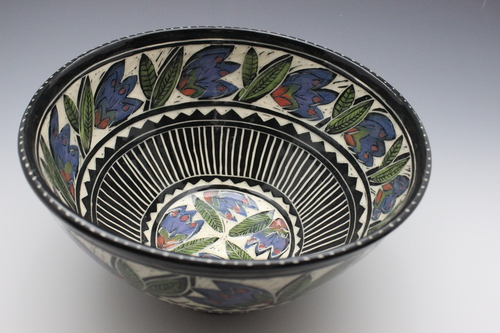 Sue O'Connor first recognized her interest for art at a young age. For much of her earlier years, she worked for her father. She began organizing textiles and samples for her father's contract furniture company. There, patterns and repetitive designs became a part of her daily life. Many of her patterns and designs are drawn from her English heritage as seen in her flowers and vine designs.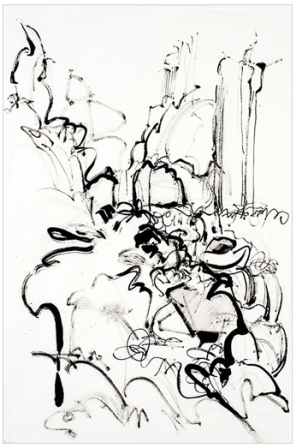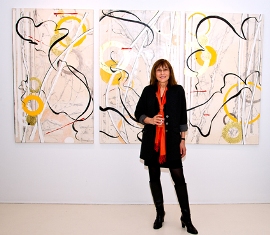 L: Cascade No. 1 – ink on Japanese mulberry paper, 39″ x 26″ / R: Jackson with East Wind at the opening of her show at Walter Wickiser Gallery, New York City, 2012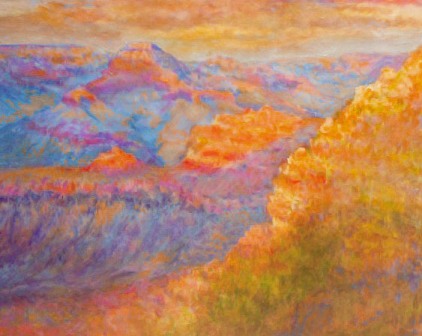 Masters, inspired by Monet, is a colorist. She uses lucid, dynamic colors with an energy and confidence that makes each piece glow. She says, "The paintings are all about the shimmer of color, the response to golden light." Masters loves creating her art. "I think of art as a spiritual experience. The creative process puts you in tune with your center, and that is what people need to feel connected to their lives." (From the website of Pierre Paul Gallery/Ann Arbor)
Tim Widener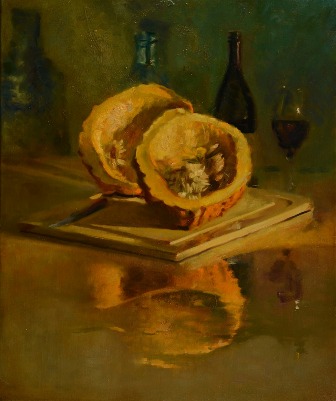 "Tim 's paintings are an expression of light as color harmonies. He looks at the inner, subjective, emotional state of the visible. Color evokes this response as well as the creation of a poetic, near lyrical image." (From the website of Treeline Gallery/Suttons Bay MI)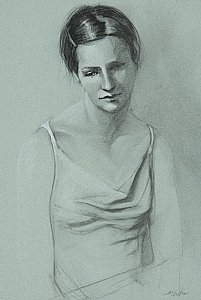 Timeless Beauty – charcoal, 19″ x 15″
"I have always been inspired by the drawings of the Great Masters – Leonardo DaVinci, Michelangelo and the other great artists of the Renaissance era.  Even though I agree that their paintings are masterpieces, it is their drawings that hold my fascination.  The subtle line, the attention to detail and the emotion that they were able to produce with a few strokes are what inspire me to draw." – Amy Foster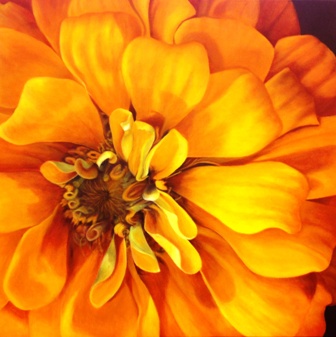 Andrea has been teaching painting classes at the BBAC since 1985.  She has exhibited her art throughout Michigan.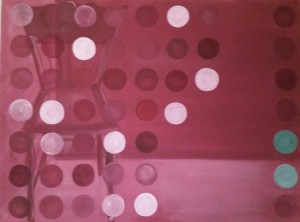 Burgundy Chair, 36″ x 48″, acrylic
(Her) artwork possesses a spirituality that transcends the mere decoration of walls, by interacting with the space for which it was created…  – Aimée S. Brown, Art Director, Dynasty Design Corp.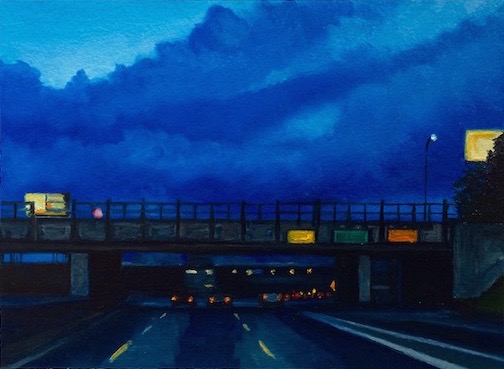 Night Call, 5″ x 7″, oil on Arches Oil Paper, 2016
"(This) is… another small piece done on Arches Oil Paper. …I recently discovered this new product from Arches, and I'm really enjoying using it for studies, sketches and small works. The clean borders are the result of using painters / artists tape to mask off the sides and establish dimensions. As with all small painting, the ability to work quickly and have a finished piece within a relatively short amount of time is incredibly rewarding. Having spent more hours than I can count on larger format work, this is a great opportunity for all artists to not only hone their skills but to produce more work." – Edward Duff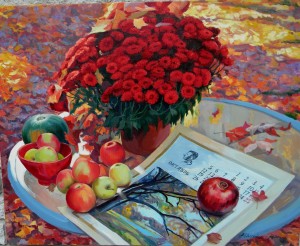 Originally from Russia, Shapiro graduated with Honors from Leningrad Art Institute in 1970.  In 1992, he immigrated with family to the USA & has since then actively worked on many artistic projects around the United States and abroad.  His artwork appears at the Holocaust  Memorial Center  in Farmington Hills, Palladium 12 Theater in Birmingham, Chrysler Museum, Fantasy of Flight Attraction in Florida, Disney Land, California and elsewhere.