Exhibitions
"If the Birmingham Bloomfield Art Center isn't on your radar as a place that mounts great shows, it should be." – Michael Hodges, Detroit News Fine Arts Writer
BBAC exhibitions are always free & open to the public, as are the opening receptions (opening night, 6-8pm).
Gallery hours: Mon-Thurs, 9a-6p & Fri-Sat, 9a-5p  (The BBAC is closed for the holidays, Dec 22-Jan 1.)
Interested in exhibiting @ the BBAC? CLICK HERE. 
2018
Apr 27-Jun 7
The Textile Connection: A Dialogue
Members of The Textile Connection, a special interest group with a focus on historic textiles and contemporary fiber arts, are pleased to offer The Textile Connection: A Dialogue, an exhibition with related programs. The exhibition features contemporary works created in response to historic textiles as well as a variety of objects selected from members' collections, including flat-woven fabrics, carpets and historic textile fragments, kimonos, ponchos, tunics, theatrical costumes, hats, baskets, and some related tools and materials.
Two gallery talks are scheduled for May 3 & May 24. 6-7:30p. Free & open to the public.
On Saturday, May 19, the public is invited to bring their own textiles (no more than three pieces) to the BBAC for conversation with Textile Connection members. Two sessions: 11a-1p & 1:30-3:30p. Free but advance registration is required – 248.644.0866. (Limited to 20 people per session.)
Ceremonial Tzute from Santa Maria de Jesús, Sacatepéquez; woven in the 1960s/70s (approximate)
Three Ancient Meteorites by Sherri Smith; weaving – strip woven with cloth & cotton yarn
Japanese Noh Theatre Robe; Japan, 1860-1880
Palepai or Ship Cloth; late-1880s/early-1900s
Charest by Lynn Bennett-Carpenter; mixed media 
Branch from the Tree of Life by Jeremy Noonan; digital collage
Destination Lisbon by Gerhardt Knodel; mixed fabrics
Ponchito; Aymara Culture, Bolivian, 1800-1850
Tiga Negeri Batik; Central Java, Indonesia, 1920s
Structural Garment #1 by Annica Cuppetelli; plastic boning
Coverlet; American, mid-1800s
Souf Kashan; Iran, 1990s
Rita Benissan
Inspired by the well-known authors Gil Scott-Heron (Comment #1) and Amiri Baraka (Who will survive in America), artist & curator Rita M. Benissan presents "Survive in America." She brings attention to & creates discussions around how identity is expressed & the current social climate in America through her work. Will you survive?
Students of Nobuko Yamasaki
---
Jun 22-Aug 23
36th Annual Michigan Fine Arts Competition / Jurors: Emily Smith, Adam Henry
CLICK HERE for 2018 prospectus & all the details
---
Sept 7-Oct 11
Anne Gilman
Dick Goody
Students of Du Truong
---
Oct 19-Nov 15
Catie Newell
Carl Wilson
Students of Andrea Tama
---
Jan 26-Mar 1
BBAC: Current Student Works Competition juried by Jim Adair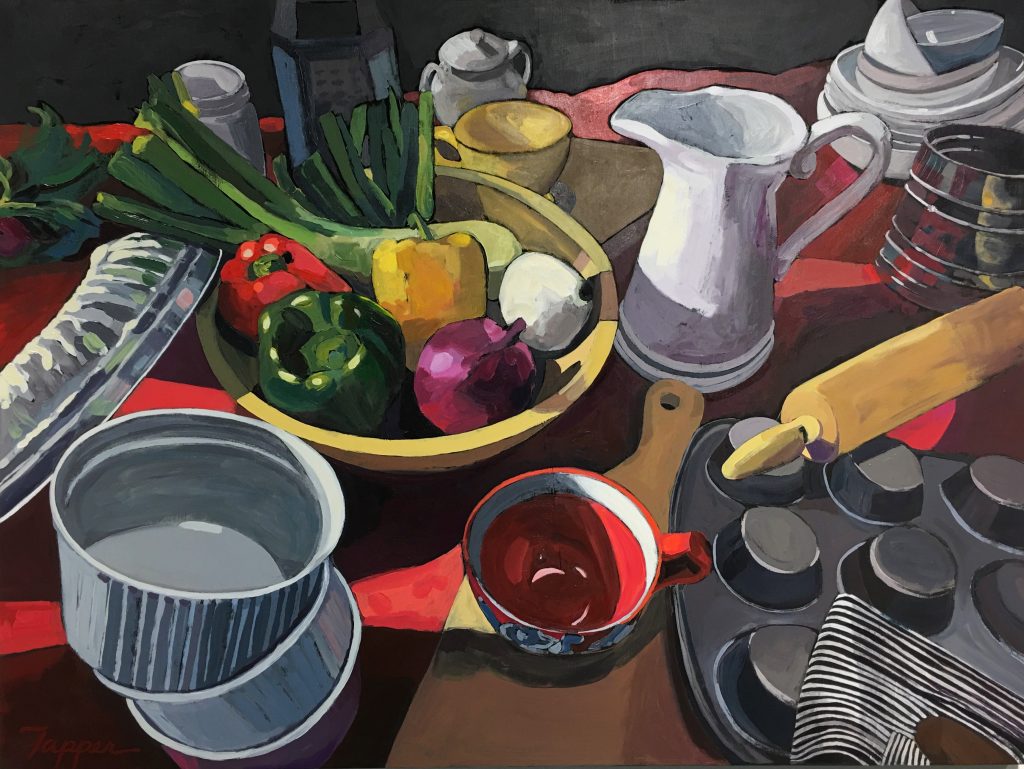 Above: Still Life with Red Cup by Patti Tapper.
For images & complete list of exhibiting artists, click here.
---
Mar 9-Apr 19
Leslie Masters: 50 Years of a Color Painter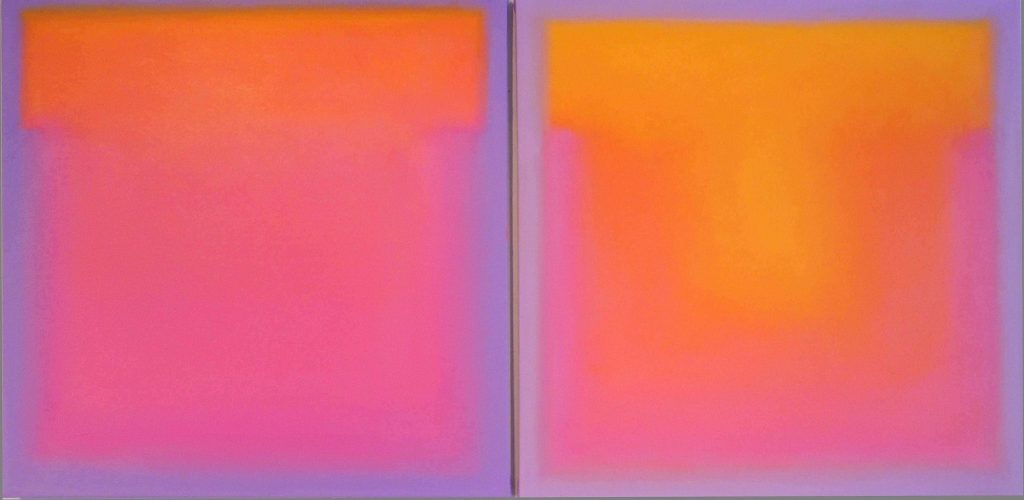 Above: Color Sound  Blast by Leslie Masters
7 Artists That Make Prints
Deborah Friedman
Linda Soberman
Mary Rousseaux
Marsha Wright
Madeline Barkey
Barbara Dorchen
Christine Welch
Michael Coy: Paint
Students of Leslie Masters