Classes – Winter 2020 + spring break & summer art camps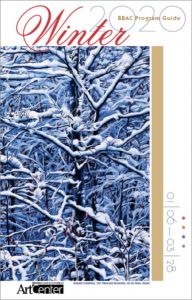 CLICK IMAGE TO VIEW PROGRAM BOOK
Winter Term January 6-March 28
CLICK HERE for online registration & to explore.
Or sign up by phone – 248.644.0866 – or in person during office hours: Mon-Thurs, 9am-6pm & Fri-Sat, 9am-5pm.
FYI – the BBAC is closed for the holidays Dec 21-Jan 1.
Looking for spring break (Apr 6-10) art camp & workshops?  CLICK HERE…& be sure the "Season" is set for "Spring Art Camp 2020."  (You can find the "Season" filter on the left side of the web-page.)
For necessary forms for spring art camp & workshops, click here.
CLICK HERE for all the details on summer 2020 art camps & workshops!