Michigan Fine Arts Competition 2022
Click here for exhibiting artists! 
Juror: Marina Pacini
Marina Pacini retired as Chief Curator and Curator of American, Modern, and Contemporary Art in 2019 after 18 years at the Memphis Brooks Museum of Art. Among the exhibitions she organized are Marisol: Sculptures and Works on Paper (2014), which travelled to El Museo del Barrio in New York, and was accompanied by a catalog co-published by Yale University Press; Red Grooms: Traveling Correspondent (2016, with catalog); Photographs from the Memphis World, 1949-1964 (2008, with catalog); and The Soul of a City: Memphis Collects African American Art (2012). Before joining the Brooks, she was director of the Clough Hanson Gallery at Rhodes College, Memphis, for 7 years; taught at the University of Memphis; and for 7 years was project director for the Philadelphia Project, Archives of American Art, Smithsonian Institution, where she began developing her focus on women artists and artists of color. Additionally, she has served on the board of the Association of Art Museum Curators and was board president of the UrbanArt Commission, Memphis.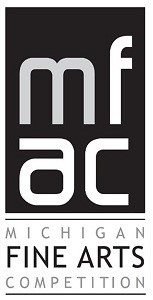 41st Annual Michigan Fine Arts Competition
Birmingham Bloomfield Art Center
1516 S. Cranbrook Rd.
Birmingham MI 48009
BBArtCenter.org
Event Dates: June 17 – August 18, 2022
The Birmingham Bloomfield Art Center (BBAC), a nonprofit community art center serving the Detroit region, has hosted the Michigan Fine Arts Competition annually since 1982 when the Detroit Institute of Arts turned the statewide competition over to the BBAC. Every year, more than 500 artists from Michigan, Ohio, Indiana, Illinois & Wisconsin enter the competition. The MFAC is juried by artist(s) or curator(s) of distinction, who select current works of the highest quality. Cash awards support working artists, while recognizing the contributions they make to the cultural fabric of our region.
DATES & DEADLINES
Online Application Process Opens — Thurs., March 24
APPLICATION DEADLINE — May 6, 2022
Juror Results — Tues., May 24 — All accepted artists will be posted on BBAC website by 5pm, BBArtCenter.org. Accepted & declined artists will be sent an email. NO PHONE CALLS PLEASE.
Intake of Accepted Artwork — Mon. – Fri. June 6 – 10, 10 am – 4pm
Award Notification (by email) — Thurs., June 16 (by the end of the day)
Exhibition Opens — Fri., June 17
Exhibition Closes — Thurs., Aug 18, 5pm
Exhibition Outtake  — Fri., Aug. 19 & Sat., Aug. 20, 10am–4pm