2023 MFAC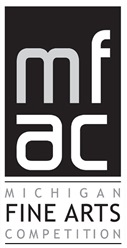 42nd Annual Michigan Fine Arts Competition
June 16 – August 17, 2023
CONGRATULATIONS to the 90 artists whose work was juried in to this year's MFAC! Click here for the list of exhibiting artists. 
The Birmingham Bloomfield Art Center (BBAC), a nonprofit community art center serving the Detroit region, has hosted the Michigan Fine Arts Competition annually since 1982 when the Detroit Institute of Arts turned the statewide competition over to the BBAC. Every year, more than 500 artists from Michigan, Ohio, Indiana, Illinois & Wisconsin enter the competition. The MFAC is juried by artist(s) or curator(s) of distinction, who select current works of the highest quality. Cash awards support working artists, while recognizing the contributions they make to the cultural fabric of our region.
DATES & DEADLINES
Juror Results — Tuesday, May 23 — All accepted artists will be posted on BBAC website by 5 pm, BBArtCenter.org.  Accepted & declined artists will be sent an email. NO PHONE CALLS PLEASE.
Intake of Accepted Artwork — Monday – Friday, June 5 – 9, 10 am – 4pm
Award Notification (by email) — Thursday, June 15 (by the end of the day)
Exhibition Opens — Friday, June 16, 5 – 7 PM
Exhibition Closes — Thursday, August 17, 4pm
Exhibition Outtake  — Friday, August 18 & Saturday, August 19, 10am–4pm
About the Juror: Cris Worley
Cris Worley is the founder and owner of Cris Worley Fine Arts, one of Dallas' premiere contemporary art galleries. She holds a BFA and MA, both in Art History, from The University of the South, and Southern Methodist University, respectively. Cris has over 20 years of experience in the fine art business, as director for other art galleries including Pan American Art Projects, and launching her own in 2010. Cris is an active leader in the arts in Dallas. She is a founding member of The Contemporary Art Dealers of Dallas (CADD) and has served on the advisory committee for the Town of Westlake's Public Art Program. She continues to juror exhibitions, act as guest speaker to universities and mentor artists in the early stages of their careers. Likewise, she provides advisory services to a select number of clients.
BBAC Gallery Summer Hours
Monday – Saturday, 9am-4pm
About the BBAC
The Birmingham Bloomfield Art Center has been providing "art for all" since 1957 and is a regional non-profit art center committed to promoting visual arts experiences.  Each year more than 500 classes are offered for all skill levels and ages preschool to senior citizens.  Throughout the year, nearly 9,000 individuals are served by classes, workshops, art camps, ArtAccess programs, special events,  and exhibitions that are free and open to the public (with an additional 75,000 impacted by Art Birmingham, the BBAC's annual fine art fair).   The BBAC also supports hundreds of artists each year, with opportunities to teach, exhibit, and sell their work.  The BBAC is a 25,000-square foot facility, with nine classroom studios, five exhibition galleries, and a retail Gallery Shop.  
The BBAC is supported by the Michigan Council for Arts and Cultural Affairs and the National Endowment for the Arts. For more information: BBArtCenter.org or 248.644.0866.