2021 MFAC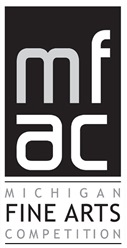 CONGRATULATIONS to the 81 artists whose work was juried in to this year's MFAC! Click here for the list.
The exhibit begins June 18 (no opening reception) & runs through August 19.
We invite you to visit in person (masks required) or to tour the show online (link to come when posted).
Continue reading to see the prospectus for this year…
40th Annual Michigan Fine Arts Competition – 2021 PROSPECTUS
Birmingham Bloomfield Art Center
1516 S. Cranbrook Rd.
Birmingham MI 48009
BBArtCenter.org
Entry opens: March 25, 2021
Event Dates: June 18 – August 19, 2021
Entry Deadline: May 7, 2021
NEW ENTRY DEADLINE: May 11, 2021

Entry Fee: $40.00
Awards: Over $4,000
The Birmingham Bloomfield Art Center (BBAC), a nonprofit community art center serving the Detroit region, has hosted the Michigan Fine Arts Competition annually since 1982 when the Detroit Institute of Arts turned the statewide competition over to the BBAC. Every year, more than 500 artists from Michigan, Ohio, Indiana, Illinois & Wisconsin enter the competition. The MFAC is juried by artist(s) or curator(s) of distinction, who select current works of the highest quality. Cash awards support working artists, while recognizing the contributions they make to the cultural fabric of our region.
DATES & DEADLINES
Online Application Process Opens — Thurs., March 25
APPLICATION DEADLINE — May 11, 2021

Juror Results — Tues., May 25 — All accepted artists will be posted on BBAC website by 5pm, BBArtCenter.org. Accepted & declined artists will be sent an email. NO PHONE CALLS PLEASE.

Intake of Accepted Artwork — Mon. – Fri. June 7 – 11, 10 am – 4pm
Award Notification (by email) — Thurs., June 17 (by the end of the day)
Exhibition Opens — Fri., June 18 (no formal opening due to pandemic)
Exhibition Closes — Thurs., Aug 19, 5pm
Exhibition Outtake — Fri., Aug. 20 & Sat., Aug. 21, 10am–4pm
ELIGIBILITY
Participation is open to all artists 18 and older, living and working in Michigan, Ohio, Indiana, Illinois and Wisconsin. Original works in all media (except video or canvas/gallery-wrapped copies) created and/or finished after January 1, 2020 will be accepted for jury providing those works have not been previously exhibited at the BBAC.
ENTRY FEE: $40 (non-refundable) payable online by Visa, MasterCard, Amex or PayPal only.
ENTRY PROCESS
All applications will be processed online through CaFÉ™ at www.CallForEntry.org. CaFÉ™ is free to participating artists and includes detailed tutorials. After reviewing our prospectus AND the CaFÉ™ tutorial, if you have questions contact us via phone or email, and we will assist you. (248.644.0866; Info@BBArtCenter.org – please put MFAC in the subject line.)
CLICK HERE to go directly to the entry website page.
SUBMISSION REQUIREMENTS
An artist may submit up to two (2) entries. The $40 fee covers one or both entries.
One image is permitted per each submitted work of art.
IMAGE INSTRUCTIONS FOR ENTRY/ENTRIES
Please refrain from using/showing your name in the image(s). Do not include borders.
Images of 3D work must include all components intended for display.
Please DO provide specific details; e.g., oil on panel; mixed media – clay, wood & found objects (not just "mixed"); acrylic on canvas with sewing threads, etc. The juror wants to know as much as possible about your artwork.
Entries will be juried online only.
ARTWORK JURIED IN TO THE EXHIBITION
LOGISTICS
All artwork displayed at the Birmingham Bloomfield Art Center (BBAC) shall be the original work of the artist. No reproductions will be accepted. No canvas wrapped copies or Editions over 100.
2D WORK MUST BE PROPERLY WIRED FOR HANGING WITH WIRE OR D-RINGS! No sawtooth hangers or hang tabs.
Each accepted work must be identified with the following information: Artist Name, Address, Phone #, Email Address; Title; Media; and Price/NFS. (If the work is NFS – not for sale – an insurance value must be stipulated or the work will not be accepted for the exhibit.)
The BBAC will accept responsibility for the works of art during the exhibition, but will not be responsible for any works delivered in damaged condition. Artists wishing to otherwise insure their work should contact their insurance agents directly.
The BBAC is not responsible for work damaged if it is not picked up by August 21. Artists whose work is not picked up by that time will incur late charges of $10/day.
Condition reports will be made for each work upon arrival. Artists must note the number of parts or pieces per entry if more than one part or piece.
All work submitted MUST be available for the exhibition dates. Work MAY NOT, for any reason, be removed from the exhibit prior to the end of the exhibit.
Maximum height of any artwork is 9′ (ceilings: 10′). Weight restrictions will be dealt with on a case by case basis.
AGREEMENT
Submission of a work for jurying shall constitute an agreement to comply with all the conditions set forth in this prospectus. The BBAC and juror reserve the right to a final selection of accepted works. Decisions made by the BBAC and juror are final.
The juror and/or BBAC may exercise the right to reject any work not accurately represented by image; work that is not gallery ready to be hung by wire; work that fails to meet eligibility requirements; work that exceeds gallery size or weight limitations; or work that is not shipped properly or does not arrive on time.
All accepted work will remain as placed by the installation team and may not be withdrawn before the close of the exhibit.
If a piece is of a delicate nature or easily damaged, please work with the exhibitions coordinator during intake for placement and installation.
The maximum value or price of a work of art may not exceed $25,000 without the artist providing an insurance rider for the additional amount.
SALES
Artists are strongly encouraged to submit art that will be for sale.
Work available for sale will be sold at the price indicated on the entry form only. No price changes permitted after acceptance into the exhibit.
A 45% commission is retained by the BBAC on all sales made during the exhibition, to support the competition and the BBAC's exhibition, education, and ArtAccess programs. The BBAC is a 501 (c) 3 nonprofit organization. 
RIGHTS & REPRODUCTIONS
The BBAC reserves the right to photograph exhibited work and use either these photographs or the artist's entry images in both print and electronic materials for publicity, promotion, education, and grant proposals.
About Our Juror
David Lusk likes looking at art: in person or online; from a blind submission or during a fancy appointment; at a museum or gallery or art fair or artist's studio.  Because of that fact & his ability to help people understand that they should live surrounded by art, he has had a successful & fun-filled 33 years dealing art.
Lusk's eponymous business, David Lusk Gallery, has outposts in Memphis & Nashville, Tennessee — far from the artworld hotspots, but still home-base for artists of fantastic creativity & appreciative clients.  The Gallery represents a diverse group of painters, photographers & sculptors from across the United States, as well as a handful of artist estates. 
The Gallery maintains an active schedule of exhibitions at both locations, creating over 24 distinct & carefully curated shows annually, that even in the year of COVID were still well-received.  The Gallery participates in a handful of international art fairs each year & its website, DavidLuskGallery.com, is an award-winning location for looking at art & learning about artists.  The Gallery regularly works with museums both small & large & major private collectors to advance its artists' careers.  The New York Times, Miami Herald, Time Magazine, Southern Living, The Huffington Post are just a few media outlets that have discussed David Lusk Gallery & its artists.
BBAC Gallery Summer Hours
Mon.-Thurs., 9am-5pm & Fri. & Sat., 9am-4pm
About the BBAC
The Birmingham Bloomfield Art Center has been providing "art for all" since 1957 and is a regional non-profit art center committed to promoting visual arts experiences. Each year more than 500 classes are offered for all skill levels and ages preschool to senior citizens. Throughout the year, nearly 9,000 individuals are served by classes, workshops, art camps, ArtAccess programs, special events, and exhibitions that are free and open to the public (with an additional 75,000 impacted by Art Birmingham, the BBAC's annual fine art fair). The BBAC also supports hundreds of artists each year, with opportunities to teach, exhibit, and sell their work. The BBAC is a 25,000-square foot facility, with nine classroom studios, five exhibition galleries, and a retail Gallery Shop.
The BBAC is supported by the Michigan Council for Arts and Cultural Affairs and the National Endowment for the Arts. For more information: BBArtCenter.org or 248.644.0866.
CLICK HERE to view the 2020 Michigan Fine Arts Competition exhibition.