THE BBAC, COVID & YOU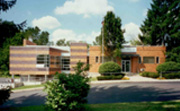 For information about visiting the BBAC, click here.
We are excited to have you back at the BBAC and hope you and your families are well.
It has been a challenging year for everyone due to the pandemic. Although we are anxious to get back to our routines, things are not the same as before.
Upon return to the BBAC, all staff, faculty, students and visitors must adhere to the safety policies and procedures put in place. We are here to enable and support the best and safest practices for the BBAC community as we begin to filter back for onsite classes.
Here are the new policies, procedures and facility changes in place:
NEW POLICIES & PROCEDURES
Masks are strongly recommended inside the BBAC facility. 
Class sizes are smaller.
Classes that have a model must have easels setup in a configuration that has students at least six feet apart from one another.
The lunch service has been suspended at this time and will be reevaluated in the future. Students should plan on eating outside of the BBAC facility. Again, anyone outside on BBAC grounds must social distance themselves six feet from others.
Instructors and students cannot shuffle between classrooms to get things out of closets or rooms after 9:00 am or 12:30 pm. If you need any items out of a room or closet from another classroom, it will have to be thought about ahead of time and removed when there is not a class in session.
Our facility staff is diligent about sanitizing classrooms down before and after classes. Please help this process along by cleaning and packing up about 10 minutes early if your class ends at Noon or at 10pm. This is something that will help the facility staff immensely and will be safer for everyone.
If you test for COVID-19 and your result is positive and you have symptoms, please isolate for 10 days. If you have tested positive for COVID-19 and never had symptoms, isolate for 5 days from the date you had your test done. If you are not fully vaccinated and have been in close contact with someone diagnosed with COVID-19, quarantine for 10 days from your last exposure. 
FACILITY
Our facility staff will be sanitizing the classrooms before and after each class. Bathrooms will be done more frequently as well as entrance/exit door handles and railings.
New hand-sanitizing stations have been placed inside the facility at:
– The north, south and front entrances
– Between studios 4 and 5 by the vending machines
– Between the Robinson and Kantgias / DeSalle Galleries
This summer we had high-quality filters installed in the HVAC system to help with clean air circulation in the facility.
Only one person per table is allowed in the Commons Gallery. No rectangular tables can be setup and no round tables can be pushed together. No additional seating can be added to the existing table setup.
Outdoor patio tables will be setup on the south patio with one chair per table for extra seating. Tables cannot be pushed together and no additional seating can be added to the existing table setup.
The water cooler will not be available. Please plan to bring your own beverages with you or use the vending machines and sanitize your hands immediately afterward.
If your class is going to view an exhibit together in the facility, each person must be at least six feet apart from one another.
Instructors and students cannot use the copier. If students need to make photocopies, they have to do it before or after their class off site.
If you have any needs or questions while you are on site, please ask your instructor, who will relay concerns to the BBAC staff.