Gallery Shop Gifts
Great gift items – all original creations by Michigan artists.
The BBAC will ship at no charge! First come, first served. To order, phone 248.644.0866 ext. 0 – leave your name & number; we will get back to you ASAP for all the details.
Let's consider Father's Day!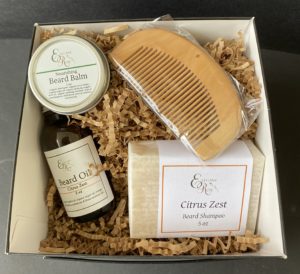 For your man who's decided to forego shaving during Covid-19. Gift packaged beard kit includes beard comb, shampoo, oil & balm – all for the face!  $30 SOLD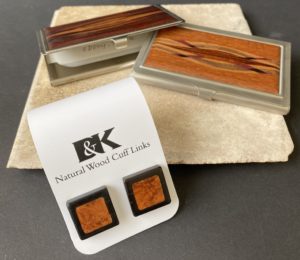 Beautiful wood products by Davin & Kessler: cufflinks $58; business card cases – each $56 – (L) Cocobolo,Koa, Pauferro, Ebony, Sapelle; (R) Lacewood , Cherry, Walnut, Cocobolo, Purple Heart, Ebony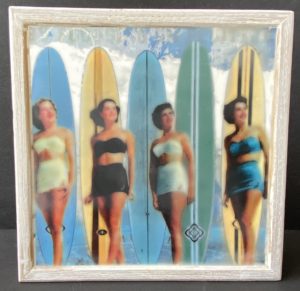 Looking for a summer inspiration to add to home or cottage? Surfer Gals by Ruth Crowe; encaustic, 8″ x 8″ – $125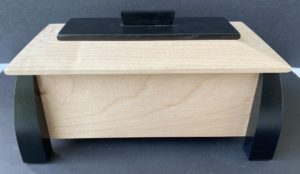 Monks Feet by Todd Mossoian, maple wood box with lid – $126
And for any occasion…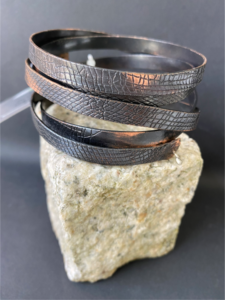 Bracelet by Janice Degen – copper with patina – $125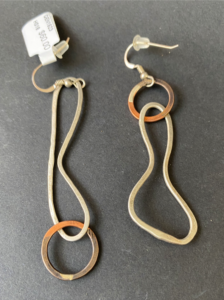 Earrings by Janice Degen – mixed metals – $60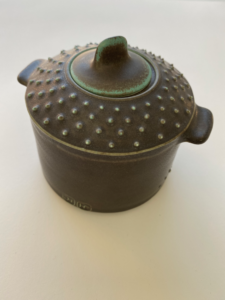 Studded jar w/ lid – ceramic – approx. 3.5 inches tall and 5 inches wide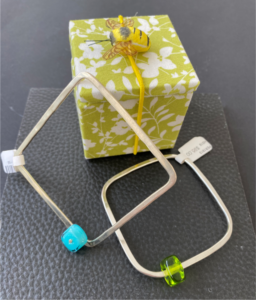 Kristin Perkins – sterling silver bracelets with contemporary glass – $95 each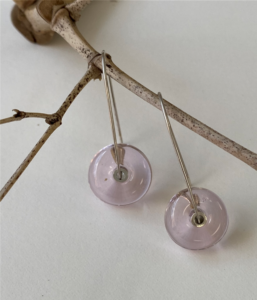 Kristin Perkins – sterling silver earrings with pink glass – $65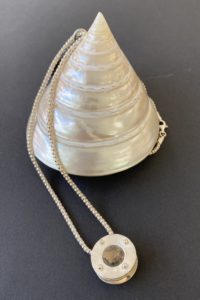 Mary Kernahan – 18″ sterling silver necklace with quartz gemstone – $130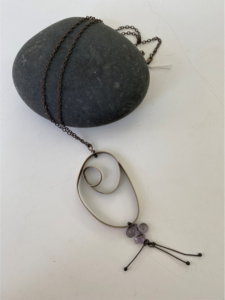 Beth North –  sterling silver necklace with lolith gemstone nuggets – $128.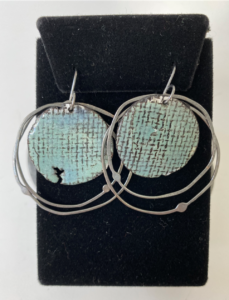 Silverfish Designs – earrings with enameled steel discs, sterling silver hoops & wire – $85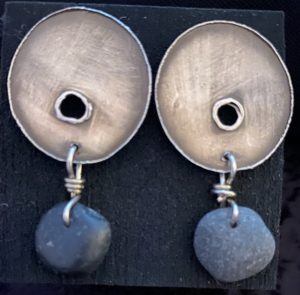 KKB Designs – $76  SOLD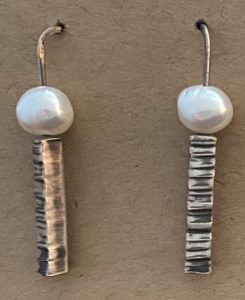 KKB Designs – $68 SOLD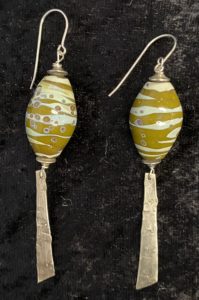 Earrings by Dale Birchler – $48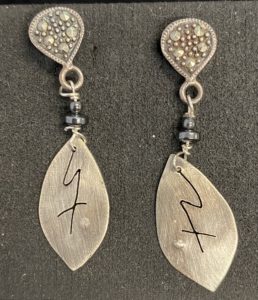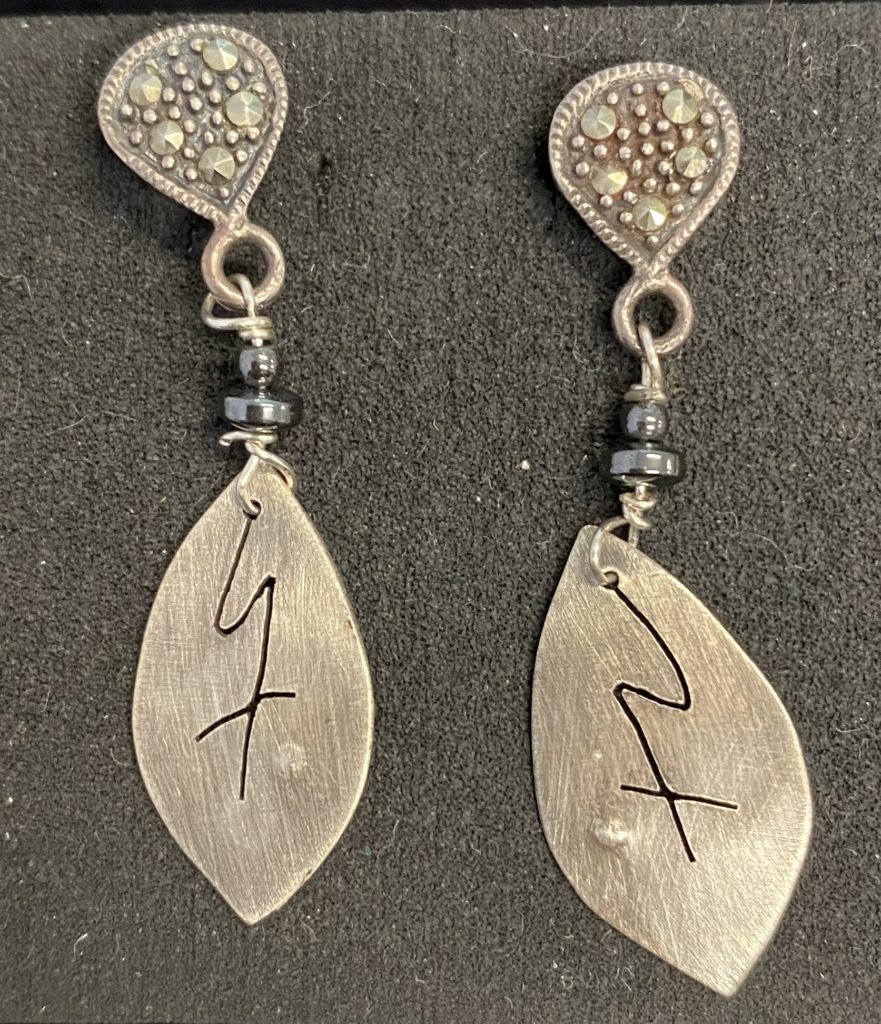 Earrings by Dale Birchler – $53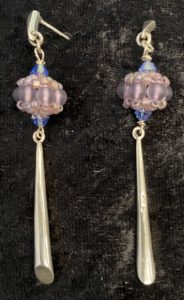 Earrings by Dale Birchler – $48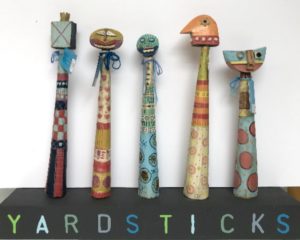 Ceramic Yardsticks by Lisa Farris
$100 each; height range: 15″-20″; various colors & designs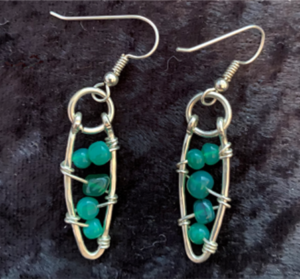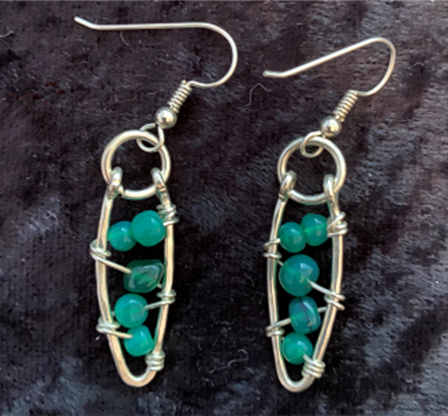 Jewelry by Carl Schneider
Earrings – Sterling silver with green onyx – $35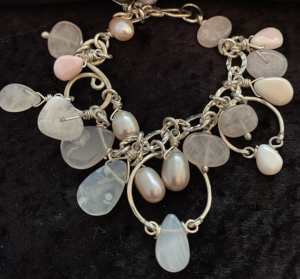 Jewelry by Carl Schneider
Bracelet – sterling silver with rose quartz, pink pearls & conch shells – $112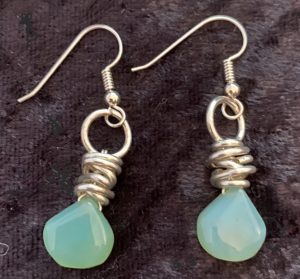 Jewelry by Carl Schneider
Earrings – sterling silver with chalcedony – $35 SOLD