Exhibitions 2019
In care you're interested in our shows last year…
---
January 25-February 28
BBAC: Current Student Works Competition 2019
This annual juried exhibition of BBAC adult student artwork is one of the most popular each year & a great showcase of the truly fabulous art produced here. Carl Wilson & Mary Rousseaux, jurors.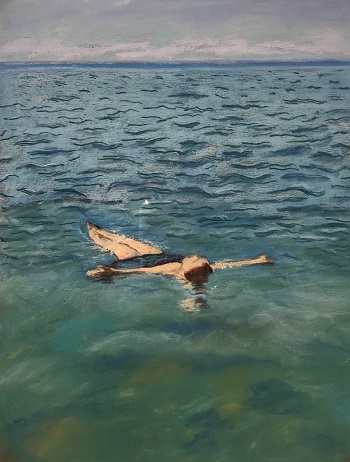 Bliss by Barbara Carson-McHale; pastel
---
March 8-April 18
Mary Ann Aitken: Indomitable Spirit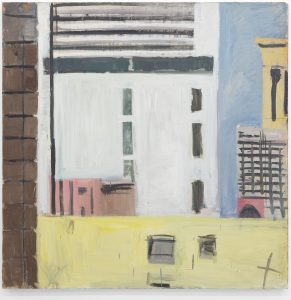 Untitled (view from Cary Building fire escape), circa 1985-89, oil on masonite, 48″ x 48″; courtesy What Pipeline
Aitken (b. 1960, Detroit, d. 2012, Brooklyn) was for 30 years a prolific artist whose works included painting, drawing, and impastoed assemblages. Her still life paintings from the 1980s capture everyday items of the time, now seen through a patina of nostalgia. Yet her thick oil rendering of these objects remains fresh in the current vernacular of painting. Posthumous solo shows include Cleopatra's, Brooklyn; What Pipeline, Detroit; Trinosophes, Detroit; and Urban Institute of Contemporary Art, Grand Rapids, MI. Group exhibitions include Greene Naftali, NYC; Andrew Kreps, NYC (with Dylan Spaysky), Museum of Contemporary Art Cleveland; Tomorrow Gallery, NYC; Marianne Boesky, NYC; Marlborough Chelsea, NYC; and PSM Gallery, Berlin. Her work is in the collections of Wayne State University, Grand Rapids Art Museum, Flint Institute of Arts, and the Detroit Institute of Arts.
(Images here + homepage image courtesy of What Pipeline)
SPECIAL EVENT: Sunday, March 17; 1-2:30p
Ed Fraga, Detroit painter & long-time friend of Aitken, along with Alivia Zivich & Daniel Sperry from What Pipeline, will offer an in-depth look at her art.
Maureen Aitken, Mary Ann's sister, will read from her recently-published & award-winning book of short stories, The Patron Saint of Lost Girls. "When you reached Brooklyn via Detroit, you had other stories, ones of yearning, of forging ahead, of seizing and tasting every drop you had left. You fought, with everything, to live." 
FREE & OPEN TO THE PUBLIC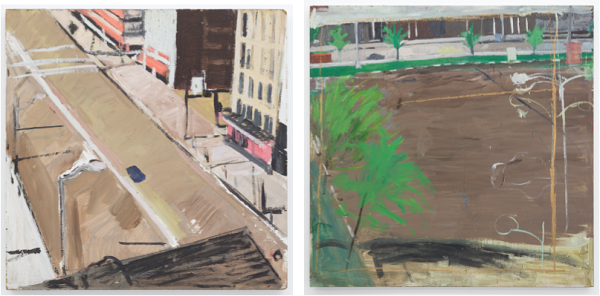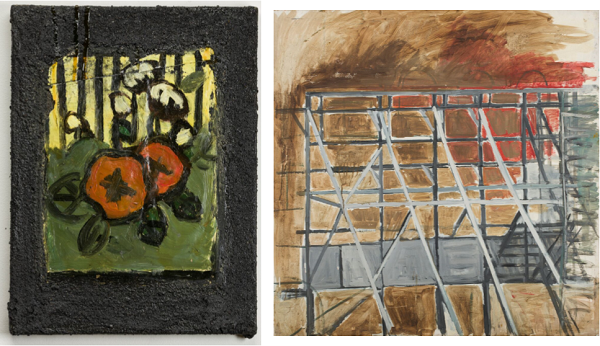 ---
Birmingham Society of Women Painters: Art at the BBAC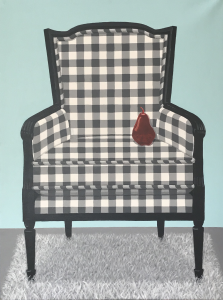 Checks by Patty Eisenbraun
To learn more about the BSWP, click here.
---
John Rizzo: Fragmented Space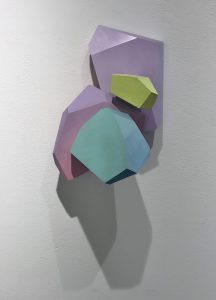 To learn more about John Rizzo, click here.
---
Students of Edward Duff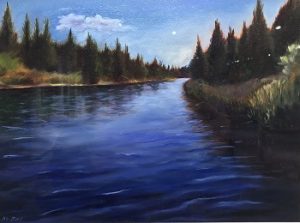 Autumn on the Au Sable by Al Ray, a student of Duff's
Edward Duff teaches drawing & painting at the BBAC & is a prolific painter focusing primarily on landscapes. He is represented by galleries in Michigan & Tennessee. To learn more about him, click here.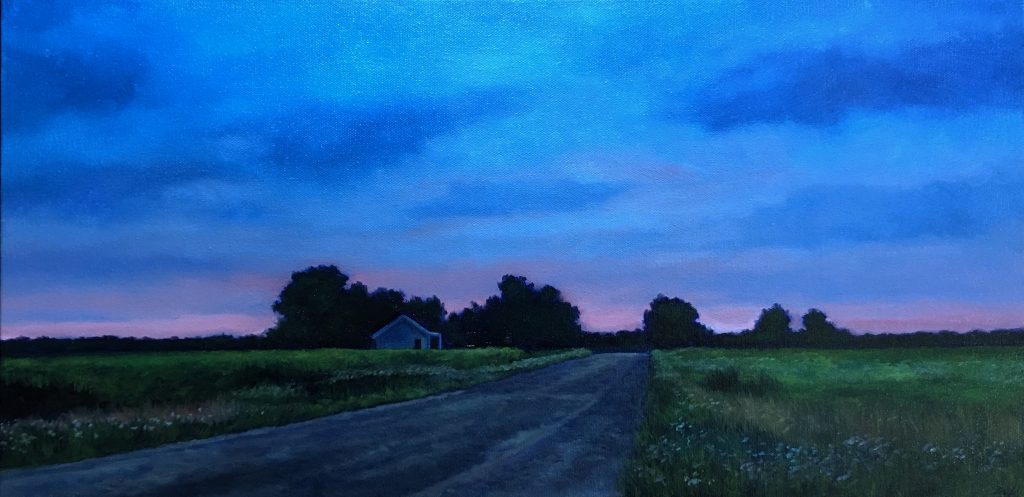 Rustbelt Twilight by Edward Duff; 12″ x 24″, oil on canvas
---
May 3-June 6
New Knowns :: New Work :: Elizabeth Youngblood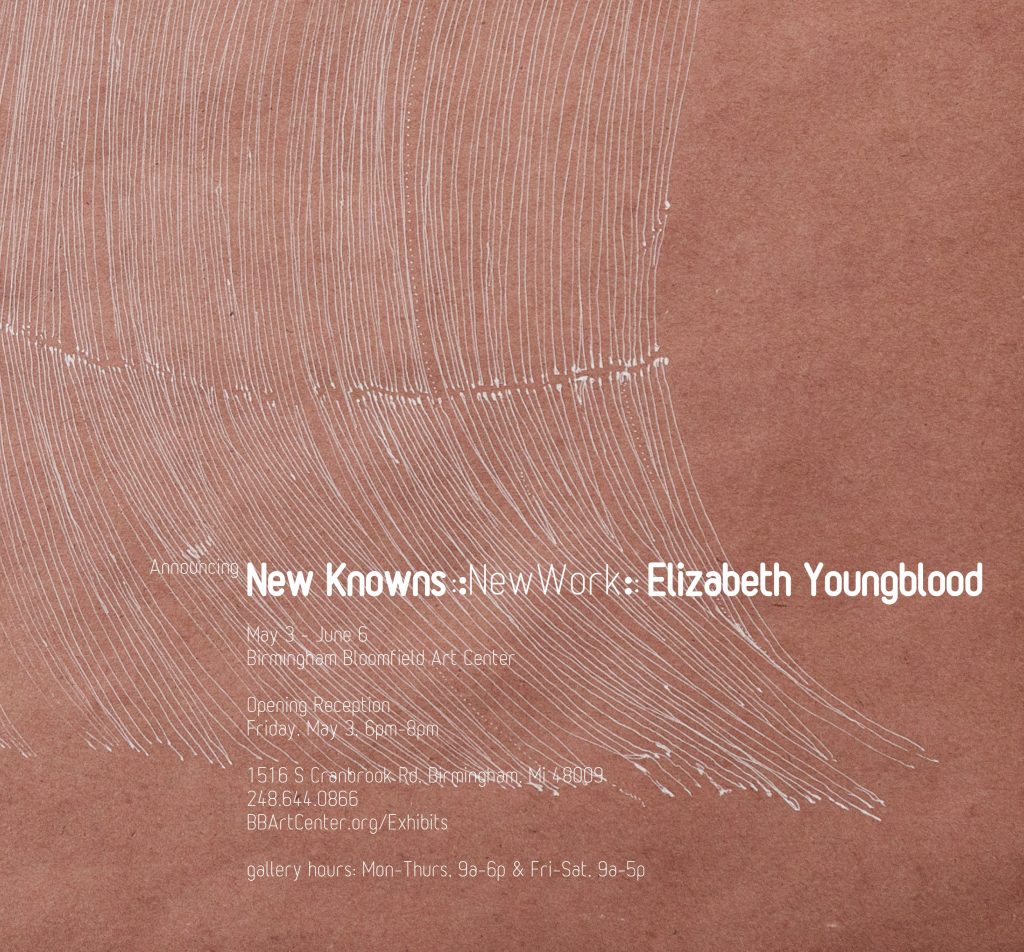 Born & educated in Detroit, Elizabeth Youngblood is an artist, educator, designer & maker of interesting things. She has always maintained a dual interest in making by hand & in design for production. Youngblood's art making practice includes working in the mediums of drawing, ceramics, weaving, book binding & more. She's been a faculty member at University of Michigan, Ann Arbor & SUNY Purchase, NY; managed branding with Unisys; & designed at the New York Times. After a stint on the east coast, Youngblood has returned to Detroit where she maintains a studio practice & continues to investigate the intersection of her range of interests. Currently leads workshops & special studios in experimental ceramic techniques.
CLICK HERE for Youngblood's website.
Regional High School Competition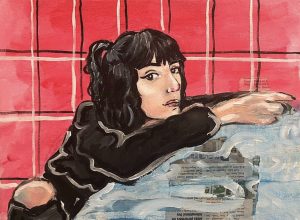 Jordan by Kate Gendruschke; mixed media; 14″ x 11″
Students of Diane Smith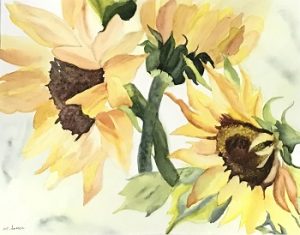 Sunflowers by Mansoureh Sameni
---
June 21-August 22
Michigan Fine Arts Competition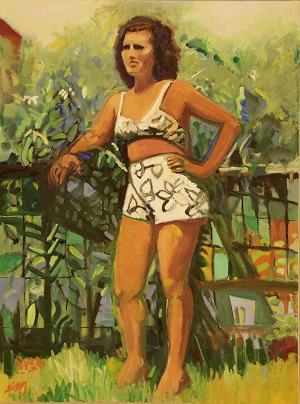 ABOVE: On the Fence, oil on canvas; by Loretta Markell
To see all 80 works of art, click here.
Juror: Jerald Melberg – click here for more about him.
Entries for this five-state competition will open in early March. 
The BBAC, a nonprofit community art center serving the Detroit region, has hosted the Michigan Fine Arts Competition annually since 1982 when the Detroit Institute of Arts turned the statewide competition over to the BBAC. Every year, more than 500 artists from Michigan, Ohio, Indiana, Illinois & Wisconsin enter the competition. The MFAC is juried by artist(s) or curator(s) of distinction, who select current work of the highest quality. Cash awards support working artists, while recognizing the contributions they make to the cultural fabric of our region.
---
September 6-October 10
On Sat, Sept 21, IRIS EICHENBERG will talk about her art & the Emergence Property exhibit. FREE. 1-2pm.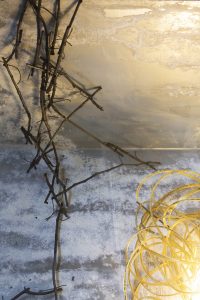 Iris Eichenberg, Shelly McMahon, Alberte Tranberg: Emergence Property
This is not a group show.
Eichenberg, McMahon, & Tranberg in Emergence Property, the phenomena of collective behaviors accomplished by bodies larger than oneself. It is most commonly associated with flocks of birds whose movements in unison are executed unrehearsed & in close proximity. Often these are evasive maneuvers which are transferred among the flock. This collective property begins with one, whose slight adjustment results in a rippling effect, shifting behavior on a large scale.
The grid is chosen as an analogous system to these behaviors & relationships which arise from the singular. As a fragment by itself it can't exist. It's a space that allows for subconscious, collective thinking. A type of natural telepathy. Within the grid, Eichenberg, McMahon, & Tranberg work toward a transference, merging together as borders become indiscernible.
Gregory Thielker: The Wall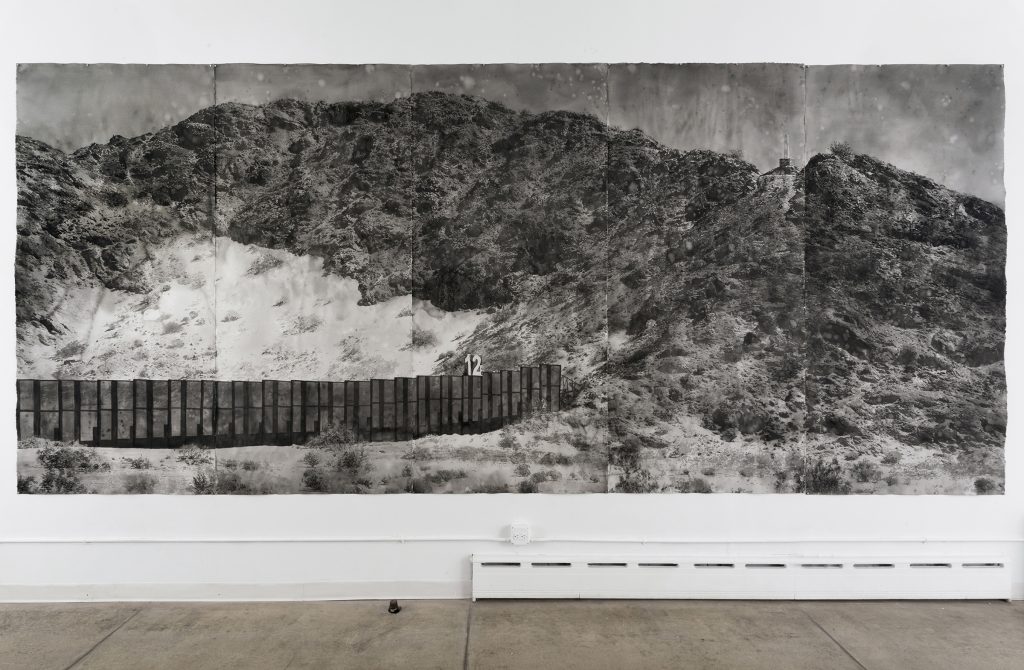 A visual portrait of the border territory between the US & Mexico. As public debate intensifies about an expanded border wall & legislative changes to affect immigration, it is important to observe the way this territory looks today. In this project, I traveled to different sections of the border region, crisscrossing back and forth, interviewing local community members & documenting the diverse terrain.   The result is a series of black & white watercolor paintings ranging from small, intimate views to a large mural. The paintings show various types of border wall, from tall steel barricades, to sheet-metal fences, to historic concrete markers. Images also depict the presence of border patrol, from patrol vehicles, cameras & tire drag gear as well as of undocumented immigrants, from backpacks, to footprints & water bottles that often dotted the landscape. Within this terrain, stories are layered on top of one another, or erased completely from the effects of weather & time. The project is meant to ask questions about the border & its impact on individual experience and national identity.
IMAGE: Broken Line
Animal Pleasures – Small Etchings by 

Alan Larkin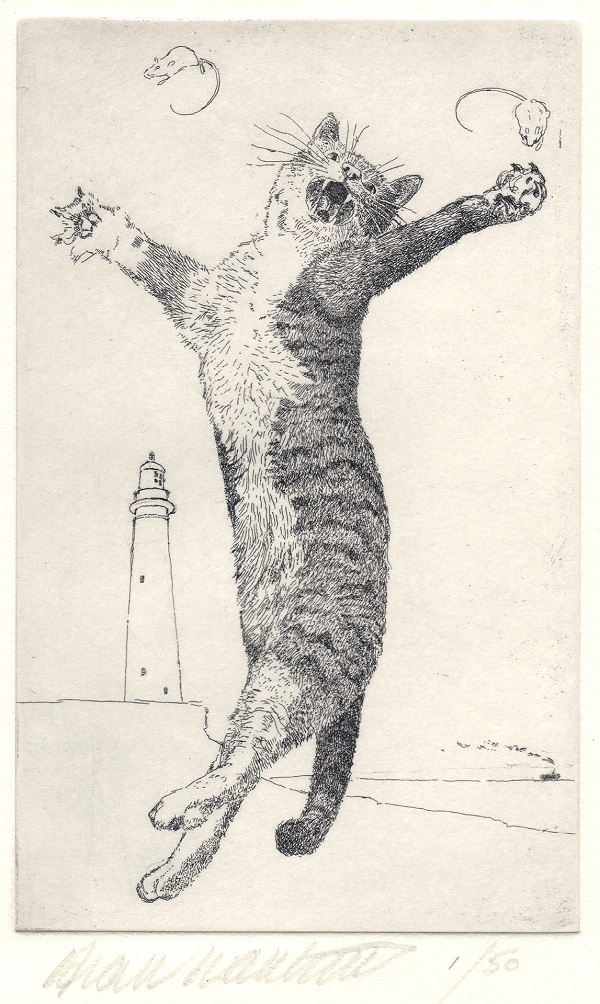 Larkin taught drawing and printmaking for nearly 40 years at Indiana University South Bend. He is the recipient of many awards – regionally, nationally, and internationally – & his works are in numerous private & corporate collections.
Free at Last State II by Larkin
Students of Barbara Holmer
Holmer has been a botanical artist for more than 16 years and teaches at the Flint Institute of Arts, the Shiawassee Art Center, and the BBAC. She uses graphite, colored pencil, and watercolor or a combination of media for her botanical drawings and paintings.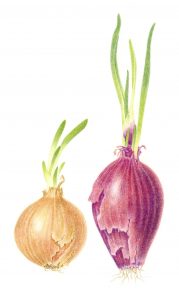 ---
October 18-November 21
Renata Palubinskas: Stillness & Movement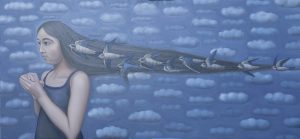 IMAGE: Girl and Birds, 64″ x 30″ by Palubinskas
Renata Palubinskas was born in Kaunas, Lithuania, part of the Soviet Union at that time. Growing up under the suppression of communist ideology, she developed a deep interest towards philosophy, religion & art. She embraced artistic expression in the form of painting to help her analyze & understand the meaning of existence. In her early youth she went to the Kaunas St Zukas Art School to study fine art painting & painting conservation. This equipped her with a strong Eastern European academic education in traditional painting & drawing techniques. Taking on big topics such as mortality & the search for enlightenment, Renata's quest was a spiritual one, drawing insights from religions, folklore imagery & fairy tales as she found the most compelling answers in writings from the Hindu tradition. In 1993 Renata emigrated to US. Her first home was in East Detroit & she further developed her painting style & began to exhibit her paintings.
Jovanni Luna: double self-portraits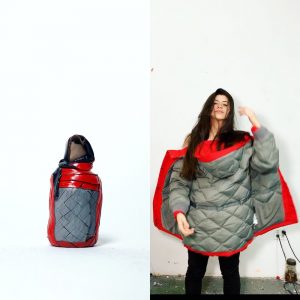 A paintskin, constructed out of latex paint, is in a constant state of transformation. Through its initial physical transition from liquid to solid, it gradually evolves through instinctual repetitive actions of layering, cutting & rolling the paint. This laborious process of working becomes hidden with each additional layer of material, obscuring the actions before it, allowing only subtle cues to be seen in the end: hints of color, gentle textures, subtle brush strokes. Each paintskin is inspired by the life of the artist; a reflection of an experience, or of an encounter with strangers or friends. 
Steven Tapper: Just Outside My Doorstep

Just as the hand, held before the eye, can hide the tallest mountain,
so, the routine of everyday life can keep us from seeing the vast radiance
and secret wonders that fill the world.
– 18th Century Chasidic Meditation
Just outside my doorstep,
opening my eyes to see,
opening the heart to feel,
opening my mind to better understand.
Photography is my medium.
– Steven Tapper
Metalsmithing Students