Seniors @ the Center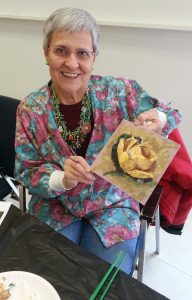 Drop-In Art Workshops / Studio 1 @ the BBAC
2nd Tuesdays, 10am-Noon
Nov 14 
Autumn Monoprints
Explore a variety of natural objects to create an autumn monoprint using a printing press.  Completed prints make beautiful holiday cards and holiday décor.  Please arrive no later than 10:30 am to allow time to complete the project.
Dec 5
Felting for the Holidays
Learn a simple felting technique to make a pin, pendant or ornament.
---
$10 per person includes all materials.
Join us once a month on the second Tuesday (Sept.-June) for drop-in workshops featuring art projects that entertain & educate.
All materials are provided, and you can expect to complete a project in about 45 minutes. Participants must arrive by 11:00 am in order to complete a project.
Advance registration is appreciated for groups over four people. Please call the BBAC — 248.644.0866 — at least three days prior to the workshop date.