Art Birmingham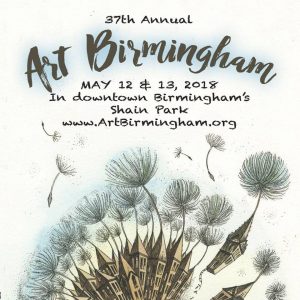 Click here for details, including all the artists.
2018 Featured Artist – Marina Terauds (North Branch MI); Dandelions Urbanized, hard ground copperplate etching printed on Rives BFK etching paper with oil based etching inks
Celebrate Mother's Day & enjoy the work of more than 150 artists at Art Birmingham. Featured artwork includes painting, ceramics, photography, jewelry, glass, wood, sculpture, mixed media, fiber, metals & more. Originally known as the Birmingham Fine Art Festival, the event celebrates its 38th anniversary in Shain Park, downtown Birmingham's beautiful city park. As the downtown center, Shain Park is surrounded by convenient parking for fairgoers & within easy access to the many unique stores & fabulous restaurants of downtown Birmingham.
Art Activity Tent – FREE! Kids 12 & under can create a beautiful garden art flag — appropriate to give as a present to a favorite mom or special person, or to hang in your own garden! (All children must be accompanied by an adult.) Look for the double tent on Bates right across the street from The Community House.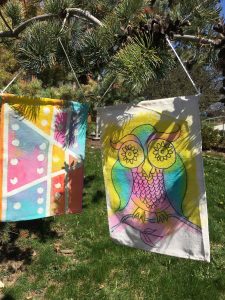 This fine art fair celebrates & benefits the "art for all" vision of the BBAC.
Artist applications are closed. Artists interested in future participation should contact The Guild of Artists & Artisans: (734) 662-3382 or Info@TheGuild.org