FIBER ARTS: WEAVING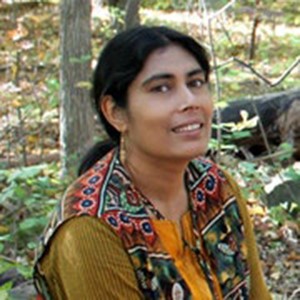 Boisali Biswas of West Bloomfield is a studio artist working in mixed-media fibers. She is originally from India, and her formative years were spent at Visva-Bharti International University, founded by the Nobel Laureate, Rabindranath Tagore. Her works display underlying influences of the captivating traditional patterns and techniques and usage of stunningly rich array of colors in Indian art. Boisali's work emanates from her personal experiences and is influenced by images, people, places, feelings and emotions through life both in India and US. The soul of her work is as much Indian as it is Western.
ARTIST STATEMENT
I believe a work of art bears the stamp of individuality and the national bearing of its creator when it springs from inner self. Being from India, a country with an extremely rich heritage of art and culture, I have always had a deep-rooted attachment to traditional art forms of India and owe some of my stylization to the captivating traditional patterns and the rich array of colors. Adapting to Western styles and techniques, and combining them with my lifelong fascination for ethnic arts around the world, have all been a melting pot for me to create this multicultural canvas.
I got my BFA from the International University, Visva-Bharati at Shantiniketan (Abode of Peace) in India founded by the poet, writer, painter, musician, educationist, philosopher, Nobel Laureate (Literature) Rabindranath Tagore. The education at this unique university, Visva-Bharati , during my formative years as an artist, have had a profound influence on my life, mind and my creative abilities. Even after being thousands of miles away from it for more than 20 years, I can feel it's presence in my daily life. At Shantiniketan, the freedom of creative expression through songs, dance, poetry, art and an active integration of nature with man becomes the essence of living (see Rabindranath Tagore on Education).
In my everyday life, my escape, my retreat, is my creative power of Art. My work is indigenous to my inner self, and is a place of solitude, passion and contemplation for me. The final offering is the culmination of a series of wordless conversations between me and my artwork. The subject matter of my work is drawn from my own life experiences, trips, thoughts and surroundings. My art is like a journey for me through the passage of time honored techniques, traditions and influences in an endeavor to produce art for everyone to appreciate.
By now I have spent more years in the US than my own homeland. Images, people, places, corners, experiences, moments all show up in my subconscious mind more than ever. No matter how much I have adapted to my new life here and embraced everything with all my heart that love and longing is embedded somewhere deep. And hence that tormenting question of "Belonging" comes to mind constantly. Where do I really belong? It's all about that soul-searching, a retrospection.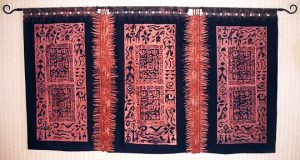 RESUME
MFA, Bowling Green State University, USA, 1994
BFA, Visva-Bharati University, India, 1984
SELECTED JURIED EXHIBITIONS:
2 Person Exhibit at Northville Art House, June 2017, Northville, MI
Bold and Beautiful, 4 person invitational show, Jan-March, 2017, Westminster, MD, Carroll County Arts Center
Art Prize, Fifth Third Bank Plaza, 2016, Grand Rapids, MI
"Sewing Our Stories: personal, cultural, universal," 2016, San Marcos, TX
Connection : Fiber Art Network, member exhibit, 2016, Mt. Pleasant, MI
Midwest Fiber Artists, a group show, Vale Gallery, 2014, Chicago, IL
Reaching for the light, Rackham Graduate School, U of MI, 2014, Ann Arbor, MI
Fiber Invitational '13, Ludington Area Arts Council, 2013, Ludington, MI
Shilpa, Colors of India-Pakistan-Bangladesh, Walkers' Gallery, 2012, San Marcos, TX
From Tradition to Innovation, Rackham Graduate School, U of MI, 2010, Ann Arbor, MI
Six Person Show, River Gallery, 2009, Chelsea, MI
Art In Sight, Ann Arbor Chamber of Commerce, 2008, Ann Arbor, MI
MSDA Members Exhibition, Riverside Arts Center, 2008, Ypsilanti, MI
Sum of the Parts, Members Exhibit at SDA conference, 2007, Kansas City, MO
Back ToThe Floor, part of HGA Convergence, Elaine Jacob Gallery, 2006, Detroit, MI, Wayne State University
Heritage Festival, Costick Center, 2005, Farmington Hills, MI
Detroit Scarab Club Fiber Arts Show, 2004, Detroit, MI
Fantastic Fibers, Yieser Art Center, 2001, Paducah, KY
One Vision: Women in Art, Oakland Community College, 2000, Farmington Hills, MI
Seeing Thru Surfaces, 2000, St.Charles, IL
Alumni Exhibition, Art Center BGSU,1997, Bowling Green, OH
100 In The Sun: Art Fabric By The Yard, SDA Exhibit, 1995, Seattle, WA
The Group, Academy of Fine Arts,1995, Calcutta, India
SOLO SHOWS:
Fiber Musings, Cancer Center, U of MI Hospital System, June-Sept, 2017, Ann Arbor, MI
Multicultural Arts Center, April-June, 2016, Cambridge, MA
Henry Ford Hospital, Oct-Dec, 2015, West Bloomfield, MI
Ferndale Public Library, June-Aug, 2015, Ferndale, MI
Christensen Heller Gallery, Jan – June, 2015, Oakland, CA
Middleton Public Library, Mar/April, 2015, Middleton, WI
An Introspective Journey, Nov 2014, Carroll Community College, Westminster, MD
Melange, Grove Gallery, Oct 2013, Lansing, MI,
The Layered Surface, Padziesky Gallery, Aug, 2011 Dearborn, MI
Foundry Art Center, Aug – Oct 2010 St Charles, MO
Oakwood Hospital & Medical Center (Arts for the Spirit), 2010 Dearborn, M
Transcending Boundaries, Central Michigan University Library, 2010 Mt Pleasant, MI
University of Michigan Hospital Main Lobby (Gifts of Art), 2008 Ann Arbor, MI
Joseph Mercy Hospital (Ann Arbor Art Center), 2000 Ann Arbor, MI
Waterford Township Public Library, 2000 Waterford, MI
MFA Thesis Exhibition, Bowling Green State University, 1994 Bowling Green, OH
Lancaster Public Library, 1992, Lancaster, OH
Columbus Cultural Art Center, 1991, Columbus, OH
Worthington Public Library, 1990, Worthington, OH
Tagore Art Gallery, 1987, Calcutta Airport, India
Academy of Fine Arts, 1986 Calcutta, India
AWARDS AND RECOGNITIONS:
3 pieces selected by the Art in Embassies program for Dar-se-salaam and Tanzania, 2014 – 2016
Published in Textile: A History of Mankind, by Mary Schoeser
A piece placed in St. Joseph Hospital Lobby, Chelsea MI 2012
Selected as one of the Artists as part of the Public Arts Program, Farmington City Hall, Farmington MI 2012-2014
Featured Artist at Vale Gallery, Sep 10 – Nov 10, 2010 Chicago IL
Art in Stitches: An invitational Fiber Exhibit by 6 Artists, The Art House, 2009 Northville MI
No Restrictions, MWG exhibit at BBAC, 2009 ~ Honorable Mention Birmingham MI
Featured artist at Christensen Heller Gallery, Nov 2008 – Jan 2009, Oakland CA
Quilt Commissioned by St. Joseph Mercy Hospital Main Lobby, 2008 Ann Arbor MI
MSDA Exhibitions, 1998 onwards, 5 First Place Awards, 3 Second Place Award, 3 Honorable Mentions Detroit Area MI
Art Tees, 1997 ~ First Place Award Rockford IL
Surface Treatment, 2000 ~ Honorable Mention St. Charles IL
Our Visions: Women in Art, Oakland Community College, Honorable Mention 2000 Farmington Hills MI
American Stitches, 2000 ~ Invited to Contribute a piece to the Quilt for Detroit
REPRESENTED BY:
Vale Gallery Chicago, IL
Muskegon Museum of Art, Gift shop, Muskegon, MI
Handscapes Gallery Beaufort, NC
River Gallery Chelsea, MI
Christensen Heller Gallery Oakland, CA
Caroll County Art Center gift shop, MD
EXPERIENCES:
Adjunct Faculty (Weaving) at Wayne State University for Winter 2013 Semester
Conducted various workshops and lectures at Center of Creative studies, Bowling Green State University, with Michigan Surface Design and other local groups.
Invited lecturer at many guilds, over last 5 years to talk about my work as a Fiber Artist from a different   (Title for Powerpoint presentation, being "Intersections of Cultures and Traditions: My journey as a Fiber Artist.")
 Website:  www.boisalibiswas.com