2020 Summer
Youth Art Camps @ the BBAC
Due to Covid-19, our popular art camps were virtual this summer with quality instruction provided by the BBAC faculty of professional artists & art educators. Registration is now closed for August camps.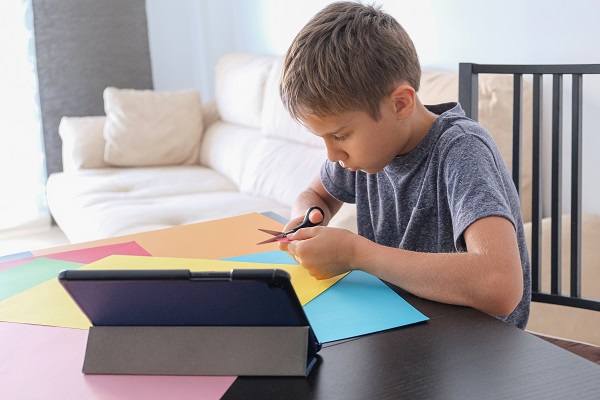 This summer was all about virtual camps! We had a full summer of exciting week-long programs that provided quality instruction by BBAC faculty. Challenging projects were designed to develop artistic skills & creativity. Each daily session included instructor led demos in which students learned techniques & developed skills for working on independently after the hour online session was over. Materials were provided for curbside pick-up.
Here are the art camps presented virtually this summer:
Grades 1 & 2  
These one-week multimedia camps explored a fun new theme each session.  The instructor guided children through online demos & art making activities to do together & on their own time.  Campers experienced the styles & techniques used by artists, learn art vocabulary & develop art skills.   
Virtual Art Exploration Camp 1 – Grades 1 & 2; July 6-10 (10:30-11:30am)
Backyard Bonanza – Explore nature & wildlife through drawing & painting. Registration deadline: June 26.
Virtual Art Exploration Camp 2 – Grades 1 & 2; July 13-17 (10:30-11:30am)
Fun with Mixed Media – Make collaged animal faces, wood & twine self-portraits, papier mache vases, 3D dragonflies & more! Registration deadline: July 2.
Virtual Art Exploration Camp 3 – Grades 1 & 2; July 20-24 (10:30-11:30am)
The Colors of Summer – Explore a variety of summer subjects to create paintings with watercolor, soft pastels & tempera. Registration deadline: July 11
Virtual Art Exploration Camp – Session 4: Grades 1 & 2; Aug 3-7 (10:30-11:30am)
Animal Art – Explore the textures, patterns, colors & shapes found in animals from a variety of habitats. Using colored pencils & graphite, learn the fundamental concepts of art while exploring one of your favorite subjects. Registration deadline: July 23
Grades 3-5 & Grades 3-6 & Grades 3-8
Virtual Drawing Basics: Grades 3-5; July 27-31 (9:30-10:30am)
Students will experiment with a variety of drawing techniques to build an understanding of line, shape, form and value. Students will learn to draw objects from basic shapes and will explore different techniques with a variety of materials to bring life to their drawings. They will also draw from a series of prompts to promote creative problem solving skills. Registration deadline: July 20
Virtual Fashion Design Camp – Session 1: Grades 3-6; July 13-17 (9:30-10:30am)
Campers will learn simple body proportions & collaging inspiration to create a final fashion design. They will learn basic hand sewing to create a small bag. Each camper will receive a packet with instructions & template, so they can continue making fashion designs in their own time. All materials are included & available for curbside pick-up prior to the first day. Registration deadline: July 5
Virtual Clay Camp – Session 2: Grades 3 – 8; July 6-10 (9:30-10:30am)
Fairy/Gnome Cottages + Garden Ornaments – The ceramic project for this session will be whimsical fairy/gnome cottages & garden ornaments. Clay & tools are included & will be available by curbside pick-up. All work will be kiln fired & returned with a set of acrylic paints & brush to apply details & pops of color. Registration deadline: June 26
Virtual Clay Camp – Session 3: Grades 3 – 8; July 13-17 (9:30-10:30am)
Functional Fun in Clay! The ceramic projects for this session will be a handbuilt textured plate and/or bowl with matching funny face mug. Clay & tools are included & will be available by curbside pick-up. All work will be kiln twice. The first bisqueware firing will be returned with a selection of ceramic glazes. Once glazes are applied at home, students will return their work for a second glaze firing. Registration deadline: July 5
Grades 6-12
Session 1 – Drawing from Observation for Grades 6-12; June 22–26 (11am-Noon) 
Learn to draw what you see through direct observation of your subject matter. Lessons will include exercises with basic shapes, value scales, & light & shadow.  Projects include drawing with graphite in your sketchbook & reverse drawing with white colored pencil on black paper. Registration deadline: June 17
Virtual Metals/Jewelry Camp – Lost Wax Casting for Grades 6–12: June 22–26 (10am–11am)
Explore the lost wax casting technique with bronze metal.  Through daily online demos & guidance with the instructor, you will create your design in wax to make one ring & one small sculpture.  The instructor will cast your wax designs with bronze metal & these pieces will be available for pick-up the following Monday.  All supplies for this camp will be available for curbside pick-up before the first day & additional times will be scheduled for dropping off your wax designs for casting & picking up your completed bronze ring & sculpture. Registration deadline: June 17
Virtual Mixed Media & Sculpture Camp for Grades 6–12:  June 22–26 (11:30am–12:30pm)
In this camp you will create a sculpture that explores the 3D forms of animals. With daily online guidance, each session will cover a new technique for completing your unique sculpture using plaster wrap, wire, wood & paint.  All materials are included & available for curbside pick-up prior to the first day. Registration deadline: June 17
Session 2 – Virtual Drawing Skills: Colored Pencil: Grades 6 – 12; July 6-10 (11am-Noon)
The focus for this workshop will be color theory, shading/blending techniques with colored pencil, & creating 3D form & realism in objects. Registration deadline: June 26
Virtual Metals/Jewelry Camp: Lost Wax Casting: Grades 6 – 12; July 6-10 (10-11am)
Explore the lost wax casting technique with bronze metal. Through daily online demos & guidance with the instructor, you will create your design in wax to make one ring & one small sculpture. Your final wax designs will be cast in bronze metal. All supplies for this camp will be available for curbside pick-up before the first day & additional times will be scheduled for drop-off & pick-up of your cast ring & sculpture. Registration deadline: June 26
Virtual Metals/Jewelry Camp: Wire Wrapping: Grades 6 – 12; July 6-10 (11:30am-12:30pm)
Through daily online demos & guidance with the instructor, you will learn the wirewrapping technique for two metals projects – a jewelry pendant & decorative hanging art. The material fee includes supplies so you can continue making projects from the skills you learn in this camp. Materials in our art kit include a jewelry pliers, wire cutters, wire brush, copper sheet metal, beads & satin cord. Registration deadline: June 26
Session 3 – Virtual Drawing Skills: Portraits: Grades 6 – 12; July 13-17 (11am-Noon)
Learn drawing techniques in graphite, proportion practice, facial feature layout & techniques to create realism. Registration deadline: July 5
Session 4 – Virtual Drawing Skills: Draw from the Imagination: Grades 6-12; July 20-24 (11am-Noon)
This skill building workshop will include creative drawing exercises & explore fun techniques with pencil, ink & watercolor. Registration deadline: July 11
Virtual Fashion Illustration Camp Session 2: Grades 7-12; July 20-24 (11:30am-12:30pm)
This camp is a continuation of Fashion Camp: Session 1. Students will strengthen their fashion figures with more movement & design a final capsule collection. They will explore different mediums & styles for illustrating through demos & online work time. All supplies are included & available for curbside pick-up prior to the first day. Prerequisite: Fashion Illustration Camp 1. Registration deadline: July 11
Virtual Clay Camp – Session 4: Grades 3 – 8; July 20-24 (9:30-10:30am)
Morphed Animal Sculptures & Decorative Wall Hangings – Using a variety of handbuilding techniques, you will make a unique morphed animal sculpture & decorative wall art. Clay & tools are included & will be available by curbside pick-up. All work will be kiln fired & returned with a set of acrylic paints & brush to apply details & pops of color. Registration deadline: July 11
Virtual Fashion Design Camp Session 2: Grades 3-6; July 20-24 (9:30-10:30am)
Campers will continue their basic understanding of fashion design through drawing & sewing a more challenging pattern. Completed projects will include a final illustration & handmade hat. It is not required that campers take the first Fashion Camp to register for this season. All materials are included & available for curbside pick-up prior to the first day. Registration deadline: July 11
Virtual Drawing Skills 5: Perspective & More:Grades 6-12; July 27-31 (11am-Noon)
Students will work on their basic drawing skills through a variety of focus concepts. These concepts will include grid drawing, perspective and mark making techniques. Students will work at their own level to deepen their understanding through practice of basic drawing techniques. Registration deadline: July 20
Virtual Mixed Media & Sculpture Camp: Grades 6-12; July 27-30 (11am-Noon)
In this camp you will create a sculpture that explores the 3D forms of animals. With daily online guidance, each session will cover a new technique for completing your unique sculpture using plaster wrap, wire, wood and paint. All materials are included and available for curbside pick-up prior to the first day. Registration deadline: July 19
Virtual Drawing Workshop: Animal Reverse Drawing; Grades 6-12; Aug 3-7 (11am-Noon)
Scratchboard Techniques and Drawing on Black Paper with White Pencil – Scratchboard is a techniques that utilizes a tool to scrape the black surface of the paper to reveal the white underneath. Reverse drawing is a technique used to focus on highlights of an object rather than the dark values. Using black paper as a background, students will create animal drawings with white colored pencil. Students will learn to draw animals using these two different materials. Registration deadline: July 26
Virtual Lettering & Modern Calligraphy: Grades 6-12; Aug 3-7 (9:30-10:30am)
Calligraphy is the art of beautiful writing. Lettering is an intentional letter design and style. Students will discover different hand lettering and modern calligraphy techniques utilizing a variety of materials. Students will focus on letter formation, thick and thin lines, spacing and layout. They will learn to create their own calligraphy and lettering styles and designs. Registration deadline: July 26
Virtual Animation Camp for Grades 6-12; Aug 10-14 (10-11am)
This one-week animation course will serve as a sneak peek into the skills needed to start your journey towards becoming an animation artist! Learn the importance of telling stories through "show" versus "tell", gain valuable tips on life drawing & character design, explore stop motion & storyboarding, & learn valuable tips & tricks about colleges & animation portfolios. Each hour-long class will begin with warm-up sketches (to keep us loose!) & a presentation on the topic of that day. To follow, will be activities, exercises, & demonstrations of assignments that will contribute to an animation portfolio. By the end of the week, you should have enough content to create a full character sheet, storyboards, some stop motion content, & a better understanding of where you want to go in the animation field. Registration deadline: July 30
Grades 7-12
Virtual Clay Camp – Session 1 for Grades 3–8: June 22 – June 26 (9:30am–10:30am)
Imaginary Creature + Coil Vessel – This session will introduce campers to pinch & coil construction techniques & surface textures to make two projects that include imaginary creatures & a coil vessel. Clay & tools are included & will be available by curbside pick-up. All work will be kiln fired & returned with a set of acrylic paints & brush to apply details & pops of color. Registration deadline: June 17
Virtual Photography Workshop 1: Grades 7-12; Tuesdays, June 30-July 28 (10-11am)
This five-day workshop will familiarize the student with the functions of a DSLR camera to gain confidence shooting in manual mode. Creative assignments will heighten the student's awareness to the various qualities of light, composition, & concept. Registration deadline: June 25
Virtual Photography Workshop 2: Grades 7-12; Wednesdays, July 1-29 (10-11am)
This five-day workshop will familiarize the student with the functions of a DSLR camera to gain confidence shooting in manual mode. Creative assignments will heighten the student's awareness to the various qualities of light, composition, & concept. Registration deadline: June 25
Virtual Fashion Illustration Camp Session 1: Grades 7-12; July 13-17 (11:30am-12:30pm)
Campers will learn how to draw the fashion figure & gain the skills to create their own designs. They will keep their work in a process book & ultimately create three fashion looks. This is a great course for beginners. Students will receive a packet of instructions & templates with their materials. All supplies are included & available for curbside pick-up prior to the first day. Registration deadline: July 5