Sunday @ the Center
Japanese Art in the Afternoon
CELEBRATING THE ART OF JAPAN & THE CHERRY BLOSSOM FESTIVAL
Sunday, April 15 — 1-3:30pm
Join us for an afternoon celebrating Japanese art & culture.
DEMONSTRATIONS
Koto – performed by Tomok Ariai, Kyoko Johnson & Harumi Omitsu
Woodcut – traditional Japanese woodblock printing by artist & BBAC instructor Nobuko Yamasaki (1:30p & 2:30p)
Raku (weather permitting) – a method of firing classic Japanese ceramics
HANDS-ON ART ACTIVITIES 
Notan – a Japanese word that means "light-dark balance" & a design concept involving the play & placement of light & dark elements as they are placed next to the other in the composition of art & imagery.
Printmaking
Origami Koi Fish
Stab Binding – a Japanese method of book-binding (NOTE – must be 12 or older & sign up onsite in advance; limited to 10 participants per session: 1:15-1:45p, 2-2:30p, 2:45-3:15p.)
Thanks, in part, to the Japan Business Society of Detroit Foundation, this Sunday @ the Center is free of charge &, as always, open to the public. 
2017 Koto players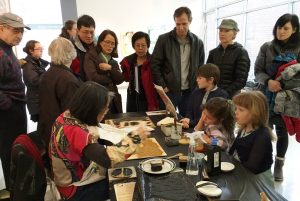 2017 printmaking demonstration
THE FINE PRINT: Sunday @ the Center workshops are (normally) $5 per person. 
Children under 12 must be accompanied by an adult. 
There should be one adult for each 2-3 children age 12 & younger.
Sunday @ the Center sessions start @ 1pm & go until 3:30pm. You must arrive by 2:45pm in order to complete a project.
We 

cannot

 accommodate formal groups such as birthday parties, scout troops, etc. For information about using the BBAC for an event with an art project, please phone 248.644.0866.
Participants are invited to tour exhibits in the BBAC's four galleries until 3:30pm.
 
These drop-In workshops are designed for people with busy lives who want a taste of the authentic art-making process. 
Each month, you can complete a Sunday drop-in project in 45 minutes or so. Everything is family-friendly but the sessions are NOT JUST FOR KIDS!
NOTE: Sometimes space is limited when attendance is high – please do not plan on extending your studio stay beyond one hour. While you're here, enjoy the exhibit galleries.
(CLICK HERE for details on Seniors @ the Center.)
IMAGES: Susan Owens; Gwenn Rosseau