Seniors @ the Center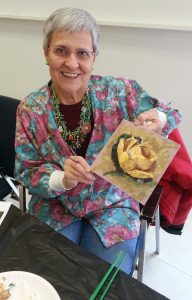 Drop-In Art Workshops / Studio 1 @ the BBAC
2nd Tuesdays, 10am-Noon
FEBRUARY 14


Arts & Sweets

Treat yourself to an art-filled Valentine's Day at the BBAC!  Workshop participants will learn an easy technique for transferring photos and other copied images on packing tape. Transfers can be used to create collaged art, greeting cards, decals, journal designs, bookmarks and much more – the possibilities are endless!  Materials and images are provided.  Participants can bring their own photos or designs but they must be copied from a laser printer (

before you arrive

– you will not be able to make copies at the BBAC).  Inkjet printing does not work with this process.
---
$10 per person includes all materials.
Join us once a month on the second Tuesday (Sept.-June) for drop-in workshops featuring art projects that entertain & educate.
All materials are provided, and you can expect to complete a project in about 45 minutes. Participants must arrive by 11:00 am in order to complete a project.
Advance registration is appreciated for groups over four people. Please call the BBAC — 248.644.0866 — at least three days prior to the workshop date.