Sunday @ the Center
FEBRUARY 12
Letterpress Valentine's Day Cards
Make your Valentine's Day cards @ the BBAC!  Learn about the history of the letterpress and how it works.  Artist Lyz Luidens will guide you through the process as you print a design with a portable letterpress and hand-color the card with watercolors and colored pencil.  
---
Please note changes due to increasing popularity of these events: 
Sunday @ the Center starts at 1pm & ends at 3:30pm.

Plan to arrive 

by

2:45 pm in order to complete the project.

Participants are invited to tour exhibits in the BBAC's four galleries until 3:30pm.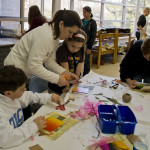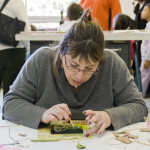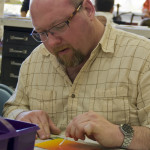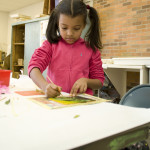 These drop-In workshops are designed for people with busy lives who want a taste of the authentic art-making process. 
Each month, you can complete a Sunday drop-in project in 45 minutes or so. Everything is family-friendly but the sessions are NOT JUST FOR KIDS!
NOTE: Sometimes space is limited when attendance is high – please do not plan on extending your studio stay beyond one hour. While you're here, enjoy the exhibit galleries.
(CLICK HERE for details on Seniors @ the Center.)
THE FINE PRINT: Sunday @ the Center workshops are $5 per person. Children under 12 must be accompanied by an adult. Sunday @ the Center sessions start @ 1pm & go until 3:30pm. You must arrive by 3:00 pm in order to complete a project.
IMAGES: Susan Owens; Gwenn Rosseau