Previous Exhibitions
BBAC exhibitions are always free & open to the public, as are the opening receptions (opening night, 6-8pm).
Gallery hours: Monday through Thursday, 9am-6pm & Friday-Saturday, 9am-5pm
Interested in exhibiting @ the BBAC? CLICK HERE.
Jan 27-Mar 2 2017
BBAC Current Student Works Competition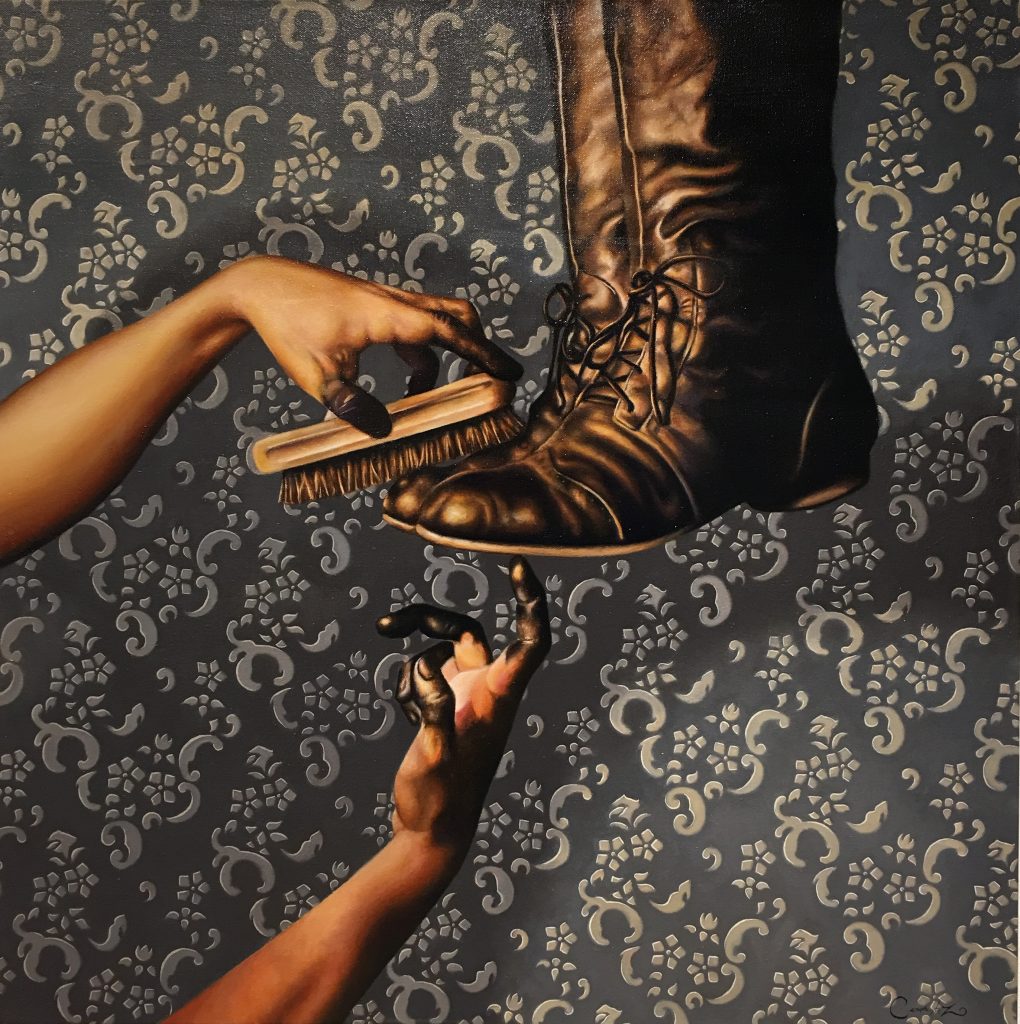 Final Touch (oil on canvas; 30″ x 30″) by Vincent Cervantez – BBAC President's Award
Mar 10-Apr 21 2017
Melis Agabigum: May the Bridges I Burn, Light the Way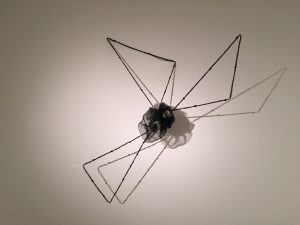 Stand Here and Hold This for a Second, For Me, Will You? by Melis Agabigum
Melis Agabigum is an educator & studio artist from Michigan. She received her MFA in 2016 from the University of Wisconsin-Milwaukee in Intermedia: Jewelry/Metals, Installation Art, Sculpture & Fibers, & received her BFA in Art & Design from the University of Michigan. In addition to her personal practice, she has worked as a studio assistant to metalsmith artist Arline Fisch, and sculptor William Dennisuk. She has taught 2D and 3D studio courses at the University of Michigan & University of Wisconsin-Milwaukee. Currently, Melis is an Adjunct Instructor in the Art Metals program at Boise State University in Idaho.
Provoked by an interest in material fiction, Melis' work examines loss, repetition & the notion of burden that individuals carry from their relationships. Her soft sculptures explore the unseen tether of the physical & emotional weights that affect individuals in how they perceive their connection to others, their bodies & space. Her work has been shown at the national and international level in shows such as: Metallophone: Bonds: Lithuania; Jewelry and Cinema in Porto, Portugal; #StickitSNAG Platforma Gallery Boston MA; & Resolutely Ambiguous at the Walker Art Museum in Minneapolis MN. 
For more about Agabigum: her website & an interview with her from 365 Days, 365 Artists: A Frank Juarez Gallery & Greymatter Gallery Collaborative Project
Carlo Vitale & Patrick Burton: We Two
L – Topographic Map – Blue (detail) – oil on canvas, 4'x10′ by Carlo Vitale; R – My Life Lies Elsewhere by Patrick Burton
What links the paintings of Patrick Burton & Carlo Vitale together is the spiritual intensity by which they approach their artistic practice. Both have invested years developing their own personal voice & work in a meticulous & obsessive nature. For Patrick, words are essential components that comprise his wood panels. Beauty, Harmony, Elegy, and Love are just a few words that come to mind when experiencing his art. For Carlo, music is essential to his paintings. He believes in the kinetic energy between music & art making. Carlo's paintings draw similarities to the optical and mathematical constructs of a painter like George Seurat. 
Vitale was born and raised in Detroit, and has been active in the Detroit art scene since the 1970s. His work is influenced by agricultural themes along with colorful imagery. Burton was also born in Detroit and lives there now. His richly ornate paintings mix folk art and popular culture.
See Carlo Vitale's website – click here.  Read about Patrick Burton here in Essay'd.
Gwenn Rosseau: Stillwater | Silentwater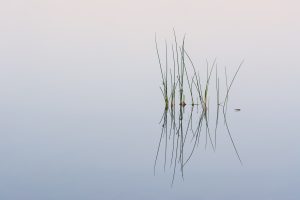 Reeds (photograph; 21″ x 14″) by Gwenn Rosseau
Rosseau is a lifelong metro-Detroiter & insatiable traveler. Her current ethereal photographic work explores the essential sublimity & solitude of nature. Click here for her website.
Students of Laura Beyer: Print & Paper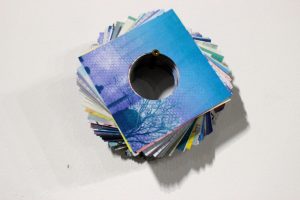 Die Cut Study (2016) by Laura Beyer. Note – this piece is intended to illustrate the work of artist & BBAC instructor Laura Beyer.
Apr 28-June 9 2017
Can You Hear Me NOW….?!
Michael Scoggins
CLICK HERE for the Detroit Art Review on this exhibit.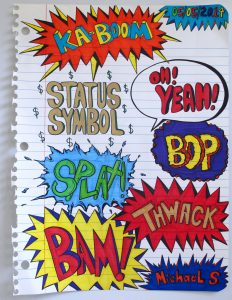 Explosion Drawing #4 by Michael Scoggins (© Michael Scoggins 2017)
b.1973, Washington DC; Education: MFA Painting, Savannah College of Art and Design, Savannah, GA; 2003, Fellowship, Skowhegan School of Painting and Sculpture, ME.
Steeped in a fundamental fascination with the essence, texture and plasticity of paper, and its' intrinsic ephemerality, Michael Scoggins endeavors to transform the disposable into timeless sculptural works of art. The artist infuses the works with a tactile component of selective tears, crumples and folds, simultaneously imbuing the images with a palpable sense of history, while establishing the works themselves as objects. In the process he expands the very definition of traditional drawing.
Scoggins has been composing his, now iconic, monumental 67 x 51 inch notebook sheets for over a decade. His awe-inspiring renditions, complete with spiral bound edges and hand drawn blue lines, depict how he is affected by popular culture and world events, and suggests how those forces have shaped all of our lives. The artist's methodical metamorphosing of the temporal into the enduring is further highlighted in his elegantly marked and vaporously distressed chalkboard work. His lyrical, ethereal, erased and smudged gossamer hieroglyphics deal with memory, how things change with time, and the ways in which we each perceive events differently. His exploration continues with a scaled down body of work using 24 x 18 inch butcher and newsprint utility papers, fashioning them into faded, tattered, textural works infused with fugitive, lush, diaphanously rendered word play.
Scoggins' art is emotionally charged, poignant, charming, caustic, and smart. Combining elements which pull on our collective memories and heartstrings, he seduces us with his brand of sinister satire, –designed to embarrass us, highlight our similarities, distinguish our differences, and engender guilty amusement. The artist's narrative romps encourage us to laugh, and fill us with feelings of nostalgia, melancholy, anger and frustration. Graceful and edgy, Scoggins provokes deliberation, makes us think and most certainly, charges us to sit up and take notice.
As simple as it is sophisticated, as accessible as it is provocative, Scoggins takes on the world like a kid in the schoolyard of life. With precision and a sublimely delicate touch, Scoggins meticulously crafts his art to look deceptively effortless, as though it were purchased at some Gulliver–sized Office Depot. In the tradition of the great Pop and contemporary artists, Scoggins redefines the ordinary and familiar, composes a new vision, and, in the process, creates for the viewer an icon for the 21st century.
Rives Rash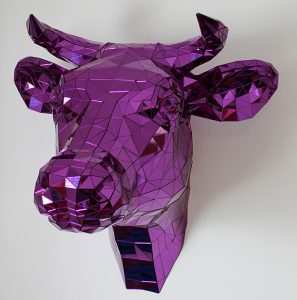 Purple Cowhead, eps foam, abs plastic, black acrylic, epoxy; 30″ x 30″  x 26″
RASH, LLC is a full-service and self-serving fabrication and design studio based in Belleview Bottoms, Kentucky. We specialize in the merging of the traditional and digital means of making.  We do 'in-house' designs and will also produce custom fabrication projects in collaboration with you and its strategic partners.  Projects range from museum art and design objects, custom interior design installations, innovative design product concepts and prototypes to architectural elements and homes.
Timothy Rives Rash II
Rives received a B.A. in Architecture from the School of Architecture at the University of Virginia and Masters in Architecture from the Southern California Institute of Architecture.  Upon receiving his Masters, he was pivotal in the development of Hernan Diaz Alonso's award winning architecture practice Xefirotarch.  Additionally, Rives worked on several projects at Eric Owen Moss Architects.
Rives developed a high end metal fabrication facility in El Segundo with Ramsey Daham who runs Breakform Design and also co-founded a custom fabrication company and Land of Tomorrow Gallery with Drura Parrish, who is now CEO of Maketime, Inc.  Rash has had the blessing to collaborate with many of the world's leading artists and designers.  Additionally, Rives has served critical posts in important research institutions such as teaching Architecture at the University of Kentucky College of Design under then Dean, Michael Speaks.  His latest teaching venture was Master of Architecture Studios at the University of Cincinnati-DAAP-SAID.  Rives now focuses on his Art, Fabrication, and Design acumen via his practice at Rash, LLC.
Dean Goulder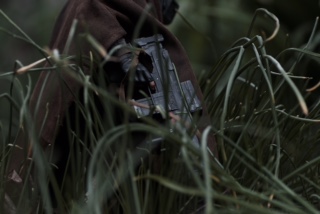 Goulder's art is photographs of small action figures.
Students of Anatoly Shapiro (painting)
 
Shapiro teaches "Large Scale Painting" @ the BBAC. His painting above: Summer Garden, 48″ x 36″. CLICK HERE for Shapiro's website.
Jun 23-Aug 25 2017
654 works of art were submitted with 104 juried in.
Sep 8-Oct 13 2017
CLICK HERE for what Detroit Art Review has to say about our fall shows.
Beyond Consequence: Works by Russ Orlando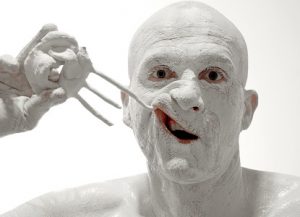 In a broad range of materials, much of my work is a response to a situation or event, or even material itself. I often see the work as a fragmented perception of reality.
When I start a work, I tend to gather materials that I find may be useful to me. When combining the materials, I try not to make too much sense out of my choices for fear of being too rational. In the end, the work should serve as only a stopping point, prompting many questions but leaving them unanswered.
Russ Orlando earned his MFA in ceramics from Cranbrook Academy of Art. His work has been shown nationally & internationally, including the Ceramic Artist Exchange – Tandem in Neumünster (Germany), the Northern Clay Center in Minneapolis (MN), the Mattress Factory Art Museum, Pittsburgh (PA), the Detroit Institute of Arts & the Museum of Contemporary Art Detroit (MOCAD). In 2009, he was a recipient of the Kresge Artist Fellowship. He has been an adjunct professor, as well as a visiting artist & lecturer.
Simultaneous Contract: Christine A. Ritchie & Kip Kowalski
CLICK HERE for more about Simultaneous Contrast  & the two artists.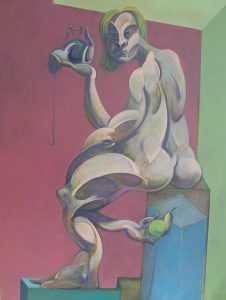 Above by Kowalski: ICTHNOISANTZ, oil on canvas, 32″ x 42.5″ 
Above, by Hughes: House of Precious Metals (7.5″ x 7″), House of the Core (7.5″ x 7″), House of Numbers 6 (6.75″ x 5.5″)
My art is based on the idea of home.
I strive to create work that draws the viewer in to take a closer look.
Early on, in our 1970's Detroit suburb, my parent's efforts to keep up appearances revealed to me that things are rarely what they appear to be on the surface.
As a child, when people would visit our house, I was often confused by their first impressions. They spoke of the charming house that my father worked so hard to afford and that my mother lovingly decorated. Didn't they see that Dad worked that hard because he didn't want to be fighting with my Mother? Did they not realize the reason our house was so pretty was because buying new things gave Mom a temporary respite from her unhappiness?
Occasionally someone will ask me for the story on a particular piece.  While I'm certainly pleased to tell them what it means to me, I'm more interested in hearing about what it brings up for them in the 'house' of their mind.
We all have our stories, our truths and our secrets.
Originally from the Detroit area, Rosemarie Hughes has lived and studied in Austin, San Francisco and London.
She received a BFA and MA in photography but her passion for working with textures and a variety of materials ultimately led her to identify as a mixed media artist.
Rosemarie currently resides in the Detroit area where she divides her time between her art studio and working as a Craniosacral Therapist.
Oct 20-Nov 17 2017
DPMT7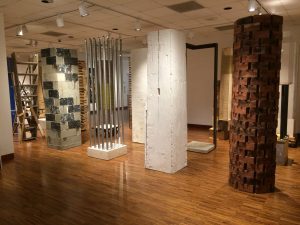 Vincent Sansalone, an architecture graduate of the Cranbrook Academy of Art, & Whitney Hamaker are co-founders of DPMT7, a Cincinnati-based art & architecture research studio; founded in 2012. Both are on the faculty of the School of Architecture & Interior Design in the University of Cincinnati's College of Design, Art, Architecture & Planning. The BBAC will be the site of the second showing of the explorations known as "Stelae," a series of two & three dimensional investigations in materiality & spatial constructs.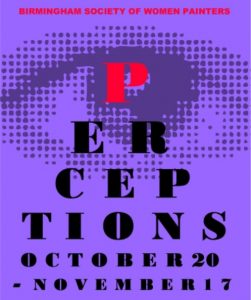 The BSWP presents their 72nd exhibit, juried by Elena Arnaoutova, an Associate Professor at Center for Creative Studies in Detroit. Founded in 1944 to provide formal instruction and workspace for women painters, the BSWP is today a dynamic organization of 50 artists working in diverse media. 
The Detroit News like this show! CLICK HERE to read the article by Michael Hodges.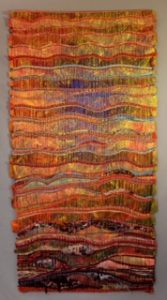 Biswas, who recently joined the BBAC faculty, is a studio artist working in mixed-media fibers. She is originally from India, and her formative years were spent at Visva-Bharti International University, founded by the Nobel Laureate, Rabindranath Tagore.  The essence of that profound experience of being in tune with nature throughout the educational journey has stayed with her and continues to influence her work. She has always had a deep-rooted attachment to the traditional art forms of her culture-rich homeland.  There is an underlying influence of the captivating traditional patterns and techniques and usage of stunningly rich array of colors in Indian art. Boisali also has had a lifelong fascination for ethnic and indigenous arts from around the world.  Living in this country for over two decades and adapting to Western styles, techniques, inspirations in concert with her background and fascinations has made her art into a cauldron of multicultural assemblages that are very unique and feast for the eyes. 
Independent Painters