MCACA Grant Awards
In September 2018, the BBAC was awarded two grants. One, from the State of Michigan Council for Arts & Cultural Affairs (MCACA) and the National Endowment for the Arts (NEA), at $26,000 for general operating support, and one from MCACA at $10,826 toward renovation of the six restrooms. The grants were awarded through the MCACA peer review process.
The MCACA peer review process allows for each grant application to be competitively considered by a panel of in-state and out-of-state arts and culture professionals. This ensures that taxpayers, who support this project through legislative appropriations, & all other visitors or residents in Michigan will have access to the highest quality arts and cultural experiences.
Grants received from MCACA by the BBAC have been instrumental in many of our capital improvement projects. Click here to see the transformations.

For more about MCACA, click here.
For a complete list of grant awards around the state, click here or contact MCACA at 517.241.4011.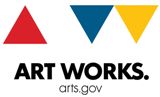 For more about the NEA, click here.