2018 MFAC jury results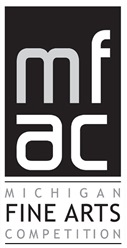 Congratulations to the following artists whose work has been juried into this year's exhibition. (Please scroll down for important dates & instructions in red.)
Aaron-Taylor, Susan…………….. Threshold #6
Alexander, Pamela………………. Purple Rain
Atkins, Laura………………………. The Reckoning of Mars and Venus (Diptych 52″x 68″ )
Atyim, Daniel……………………… Cockleknocker
Atyim, Daniel……………………… Wiffle of Forbidden Fruit
Ault, Jill……………………………… Interrupted
Barnum, B­­­­­­renda………………….. Sprung-PortraitofDayLily
Bartlett, David……………………. Hypnagogia XV
Bayagich, Victoria………………… Comparing Apples to Oranges
Bean, Justin……………………….. Solarium
Bean, Justin……………………….. Vector
Beginin, Vana…………………….. Odd Couple
Beras, Robert……………………… Dream 38
Bohannon, Maria………………… Let G Be The Center
Boot, Jean Allemeier……………. Sprouted Yellow Onion
Borowski, Gail…………………….. Genetically Modified Wishes I
Bostek, Rosie……………………… Less and Less
Bostek, Rosie……………………… Missing Pieces
Brazeau, Anthony……………….. moth-eaten and torn apart
Brazeau, Sarah……………………. Sacrum
Brown, Alan……………………….. Spirit Brothers 2 (Angry Cougar) "Back Side"
Brown, Jan…………………………. Stepping out
Burke, Tammy……………………. Tall black enclosure with train, reclining
Butcher, Larry…………………….. GATHERING
Cé, Cristina…………………………. Spirale
Cancelosi, Jeff……………………. Artist Manal Shoukair, May 13, 2018
Cannell, Doug…………………….. Duel
Cantrick, Kip………………………. The Gift
Cares, William…………………….. Counterclockwise
Chandler, Noa…………………….. Falling up
Chen Vance, Ziui…………………. Pungent Pearls
Christopher, Colleen…………….. Break Through
Chrzanowski, Winnie……………. A Day at the Mall With Grandpa
Cohen, Julie……………………….. Woman In Raincoat
Cronkhite, Donald……………….. Fervent Weather Approaching
Crow, Peter……………………….. #16 (Oak Avenue)
Dake, Ryan………………………… Seacrets
Darke, Kelly……………………….. Ceramic and Fiber 1
Dayan Vishovski, Ronit…………. Molecule
Deva, Adrian………………………. Reflector 81
Dietsch, Jana………………………. Downriver
Dougherty, Autumn-Grace……. Ladder of Ascent
Ellis, Darrel………………………… Pear
Erlandson, Robert……………….. Public Housing- Peaceful Winter Night
Farris, Lisa………………………….. Checkmate
Farris, Lisa………………………….. Green Man
Filarski, Jan………………………… Galactic Mechanisms X
Franyutti, Kristen………………… Metagenome
Furnaris, Anne……………………. Contemplation
Furnaris, Anne……………………. The Heart of Heavens IV
Giffin, Bruce………………………. Blackboard Jungle
Grieve, Candice………………….. The cool kids
Hale, Sue…………………………… Breastplate for Troubled Times
Haylett, Christina………………… Bingo
Haylett, Christina………………… Spirit Guide
Hebert, Al………………………….. Cede the Passage
Hill, Diamond……………………… Don Pablo
Horner, Garin……………………… Drive Deep the Magic Nail
Horner, Garin……………………… Our Ancestors Guide and Protect Us
Jackson, Bill………………………… Early Corn
Jackson, Meighen……………….. Naiad No. 4
Jones, Melissa…………………….. Night Creatures
Karr, Susie…………………………. Interactions#1
Knill, Sarah………………………… 852 Hz
Knorr, Michael……………………. Acoma
Konicek, Dakotah………………… Extraction
Kowalski, Kip……………………… IGGYNORANSE
LaBret Einstein, Nanci……… Hey RED
LaBret Einstein, Nanci…….. If Castles were Kings & Buildings had Wings
Lancour, Hiroko…………………… Paper Sashiko #8: Stillness of Night
Lancour, Hiroko…………………… Paper Sashiko #9
Larkin, Alan………………………… Let It Rain
Light, Richard……………………… Endless Column 2
Loar, Steve………………………… Fields of Gold/Holland Bowl Mill Collaboration
Loar, Steve………………………… Under African Skies/Holland Bowl Mill Collaboration
Matlen, Terry……………………… Sitting Bull
Meyer, Steve……………………… Visit at the Old Grade, Michigan
Morris, Robert……………………. Split Handle Vase
Mrozik, John………………………. CalamiTea: Fortress of the NRA
Napoli, Denise……………………. I have a new roommate
O'Connor, Susan…………………. Oil Cans
Omar, Sabrina…………………….. Persimmons
Orlando, Russ…………………….. T133
Painter-Jones, Joan……………… posted 
Peng, Stone……………………….. Waiting-1
Piotrowski, Mark………………… Rapunzel
Polenberg, Marcia……………….. Georgia O'Keeffe 
Reed Barritt, Carolyn……………. Swoon
Rosseau, Gwenn…………………. Icefjord II
Ryan, Laura………………………… Alien Arch
Sampson, Tom……………………. Cosmic Blast
Sampson, Tom……………………. Relic
Schlesinger, Jaye………………… All Of My Paint
Schlesinger, Jaye………………… Kopy Kat
Schnellbacher, Emily……………. Oceans Within
Stockard, Kelly……………………. HeatherehtaeH
Stroud, Claudia Hall…………………… Trou Normand
Teachworth, Ron………………… Objects from Youth
Thakur, Cynthia………………….. SexWork
Winter, Cody……………………… The Harvest
Wood, JOHN B……………………. No. 2 Golf Pencil
37th Annual Michigan Fine Arts Competition
Birmingham Bloomfield Art Center
Attn: MFAC
1516 S. Cranbrook Rd.
Birmingham, MI 48009
Event Dates: June 22-August 23 2018
Entry Deadline: extended to Tues, May 29 2018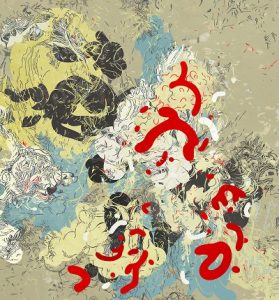 above: Tongues & Gold Teeth by Chris Dean (Ferndale MI); 3D lenticular print on acrylic, 43″ x 40″; $250 award winner in 2017
(image on homepage: detail from The Selfie by Candice Grieve, Clinton Township MI; from 2014 exhibit)
REQUIREMENTS

Media Images Per Each Individual Work of Art – Minimum: 1, Maximum: 2 
Entry Fee (Birmingham Bloomfield Art Center): $40.00
AWARDS
$5,000 in cash prizes
The Birmingham Bloomfield Art Center (BBAC), a nonprofit community art center serving the Detroit region, has hosted the Michigan Fine Arts Competition annually since 1982 when the Detroit Institute of Arts turned the statewide competition over to the BBAC. Every year, more than 500 artists from Michigan, Ohio, Indiana, Illinois & Wisconsin enter the competition. The MFAC is juried by artist(s) or curator(s) of distinction, who select current work of the highest quality. Cash awards support working artists, while recognizing the contributions they make to the cultural fabric of our region.
Timeline
Online Application Process Opens —March 20     
APPLICATION DEADLINE — May 25 2018 

May 29 2018

Juror Results — Tues, June 5 — Posted on BBAC website, BBArtCenter.org; accepted & declined artists will be sent an email
Intake of Accepted Artwork — Mon.-Fri., June 11-15, 10am–4pm + Sat., June 16, Noon-4pm
Award Notification (by email) — Thurs., Jun. 21 (by the end of the day)
Exhibition Opens — Fri., Jun. 22; Reception & Awards Presentation 6-8pm
Exhibition Closes — Thurs., Aug 23, 5pm
Exhibition Outtake  — Fri., Aug. 24 & Sat., Aug. 25, 10am–4pm & Mon-Tues, Aug. 27-28, 10am-4pm
Eligibility
Participation is open to all artists 18 and older, living and working in Michigan, Ohio, Indiana, Illinois and Wisconsin.  Original works in all media (except video or canvas/gallery-wrapped copies) created and/or finished after January 1, 2016 will be accepted for jury providing those works have not been previously exhibited at the BBAC.
Entry Fee: $40  (non-refundable) payable online by Visa, MasterCard or PayPal only. 
Entry Process: All applications will be processed online through CaFÉ™ at www.CallForEntry.org.  CLICK HERE for MFAC page.
CaFÉ™ is free to participating artists and includes detailed tutorials. After reviewing our prospectus AND the CaFÉ™ tutorial, if you have questions contact us via phone or email, and we will assist you. (248.644.0866; Info@BBArtCenter.org – please put MFAC in the subject line) 
Application Procedures
An artist may submit up to two (2) entries.  The $40 fee covers one or both entries.
Two images are permitted per each submitted work of art.
IMAGE INSTRUCTIONS FOR ENTRY/ENTRIES

If you utilize more than one image for one piece of art, please label the second image as "title of piece-DETAIL" or whatever is appropriate so the juror is clear on what he is viewing.
Please refrain from using/showing your name in the image(s). Do not include borders.
Images of 3D work must include all components intended for display.

Please DO provide specific details; e.g., oil on panel; mixed media – clay, wood & found objects (not just "mixed"); acrylic on canvas with sewing threads, etc. The juror wants to know as much as possible about your artwork.
Entries will be juried online only.
ARTWORK JURIED IN TO THE EXHIBITION
LOGISTICS
All artwork displayed at the Birmingham Bloomfield Art Center (BBAC) shall be the original work of the artist.

Each accepted work must be identified with the following information: Artist Name, Address, Phone #, Email Address; Title; Media; and Price/NFS. (If the work is NFS – not for sale – an insurance value must be stipulated or the work will not be accepted for the exhibit.)

Accepted artists may ship their work to the BBAC at their own expense, including provision for return shipping when the exhibit closes. (For multi-part artwork, a diagram should be included.)

The BBAC will accept responsibility for the works of art during the exhibition, but will not be responsible for any works delivered in damaged condition. Artists wishing to otherwise insure their work should contact their insurance agents directly.

The BBAC is not responsible for work damaged if it is not picked up by August 28. Artists whose work is not picked up by that time will incur late charges.

Condition reports will be made for each work upon arrival. Artists must note the number of parts or pieces per entry if more than one part or piece.

Work MAY NOT, for any reason, be removed from the exhibit prior to the end of the exhibit.

Maximum height of any artwork is 9′ (ceilings: 10′). Weight restrictions will be dealt with on a case basis.
AGREEMENT
Submission of a work for jurying shall constitute an agreement to comply with all the conditions set forth in this prospectus. The BBAC and juror reserve the right to a final selection of accepted works. Decisions made by the BBAC and juror are final.
The juror and/or BBAC may exercise the right to reject any work not accurately represented by image; work that fails to meet eligibility requirements; work that exceeds gallery size or weight limitations; or work that is not shipped properly or does not arrive on time.

All accepted work will remain as placed by the installation team and may not be withdrawn before the close of the exhibit.

If a piece is of a delicate nature or easily damaged, please work with the exhibitions coordinator during intake for placement and installation.

The maximum value or price of a work of art may not exceed $25,000 without the artist providing an insurance rider for the additional amount.
SALES
Artists are strongly encouraged to submit art that will be for sale.

Work available for sale will be sold at the price indicated on the entry form only. No price changes permitted after acceptance into the exhibit.

A 45% commission is retained by the BBAC on all sales made during the exhibition, to support the competition and the BBAC's exhibition, education, and ArtAccess programs. The BBAC is a 501 (c) 3 nonprofit organization.
Rights & Reproductions
The BBAC reserves the right to photograph exhibited work and use either these photographs or the artist's entry images in both print and electronic materials for publicity, promotion, education, and grant proposals.
2018 Jurors
Emily Mae Smith
Adam Henry
ABOUT THE BBAC
The Birmingham Bloomfield Art Center has been providing "art for all" since 1957 and is a regional non-profit art center committed to promoting visual arts experiences.  Each year more than 500 classes are offered for all skill levels and ages preschool to senior citizens.  Throughout the year, nearly 9,000 individuals are served by classes, workshops, art camps, ArtAccess programs, special events,  and exhibitions that are free and open to the public (with an additional 75,000 impacted by Art Birmingham, the BBAC's annual fine art fair).   The BBAC also supports hundreds of artists each year, with opportunities to teach, exhibit, and sell their work.  The BBAC is a 25,000-square foot facility, with nine classroom studios, five exhibition galleries, and a retail Gallery Shop.  
The BBAC is supported by the Michigan Council for Arts and Cultural Affairs and the National Endowment for the Arts. For more information: BBArtCenter.org or 248.644.0866.