Last Year's Exhibitions
BBAC exhibitions are always free & open to the public, as are the opening receptions (opening night, 6-8pm).
Gallery hours: Monday through Saturday, 9am-5pm
Interested in exhibiting @ the BBAC? CLICK HERE.
January 22-February 19 2016
image: Layers by Barbara Bayson
BBAC Current Student Work, juried by Laurie Tennent
February 26-March 25 2016
image: vessel, 4″ wide x 11″ high (Marie Woo)
Marie Woo / Clay Odyssey: A Retrospective (for more about Marie Woo, click here)
BBAC Faculty
Anthony Brazeau: The Beginning
April 1-29 2016

image: Untitled (torn cell) detail
Naturally Unnatural: Paintings & An Installation by Vera Scekic
Click here for her website.
---
image: Joyce Chen by Joyce Chen, 11th Grade, Troy Athens High School; watercolor, 28″ x 37″
Bi-Annual Regional High School Art Competition
---
image: Another Monday by Nina Ashraf Asmi; acrylic on canvas, 36″ x 36″
Students of Meighen Jackson
May 6-June 10 2016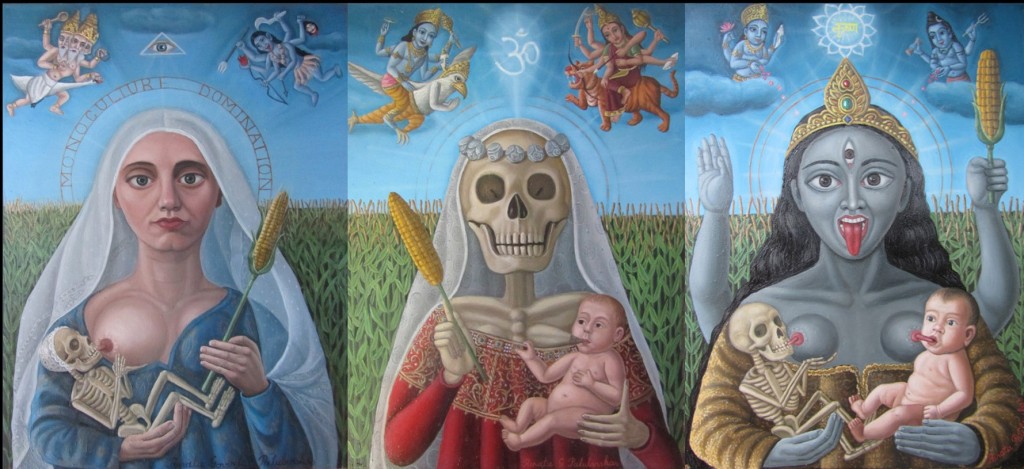 Renata Palubinskas – Monoculture Domination; oil on board; 63″ x 54″
The Dark Side
Curated by Jack O. Summers & Jeanne R. Bieri
CLICK HERE to read the Detroit News review.
The Dark Side is an exhibition that highlights artists fascinated with the unseen perhaps more sinister side of human nature. That is, the psychological and actual darkness of the unknown and possibly threatening, the uncomfortable that is intriguing, sometimes alarming and always captivating. The unforgettable that goes unnoticed, often poking fun, frightening in implication, bewildering in its inability to be pinned down, the artists in this show give us a keyhole peek into their reality. Like the photographer's shadow in a snapshot, the Dark Side features the illusive, the subtle, the enigmatic side of the fleeting and unseen.
Through a range of images and objects, the nineteen artists in the exhibition encompass depictions of memories, secret desires and private moments that illuminate the true life of the mind. Photographs that embrace night-time realities, extraordinary paintings of people whose gestures walk the edge of a reality that pulls toward the disturbing or in the sublime hyper-realism of image.  In all, the lovely workmanship draws us in, we are captured by the beauty and unsettled (frightened?)  by their detail. 
Susan Aaron-Taylor                                                                         Cyrus Karimipour
Austin Brady                                                                                      Stephen Magsig
Taurus Burns                                                                                      Scott Northrup
Alex Buzzalini                                                                                     Renata Palubinskus
Sandra Cardew                                                                                 Catherine Brehler Peet
Mary Fortuna                                                                                    Teresa Petersen
Anne Fracassa                                                                                   Lisa Poszywak
Bruce Giffin                                                                                        Tom Pryzewski
Adrian Hatfield                                                                                  Carl Wilson
Ralph Jones
---
Mantled; 24″ x 36″ x 7″; felt, waxed linen, bronze spun wool, hawthorn & cocoa beads
Karen Gubitz: Beyond Craft
Gubitz is a self-taught, award winning fiber and mixed media sculptor. Realizing that her passion lay in creating art, in 2011 at the age of 60, Karen retired from her law career to create art full time. Her work explores the expressive possibilities of combining natural and non-traditional materials with methods and techniques that have a deep and rich history in working with fiber – loom weaving, basketry, knitting, crochet, netting and knotting. (Click her name above to visit her website.)
---
Utilis II (Useful); 24″ x 24″
Image on homepage: Mut'Gayl (Dark Wolf), detail
Benglian is a working artist & designer, producing work with a focus on intuitive mark making, language & movement. A fine arts graduate of  Michigan State University (BFA, MA), he has been active in the art world, as a teacher, promoter and creative, for the past fourteen years. Benglian has participated in other group and solo exhibitions in Michigan. (Click his name above to visit his website.)
---
Amy Parker, mixed media on canvas, 24″ x 36″
Students of Kim Fay
June 24-August 26 2016
35th Annual Michigan Fine Arts Competition – more than $5,000 in cash awards
CLICK HERE to view work by the 99 juried artists.
CLICK HERE for the 2016 prospectus. 
September 9-October 14 2016
images: (top) Fox; Threshold 3 (detail)
INfolding/UNfolding – Susan Aaron-Taylor
I have shied away from the word "retrospective" as it seems to imply that one is old or dead and at the end of a career. Yes, Infolding/Unfolding is an exhibit of work from over three decades. But, I am happier and more alive than I have ever been and just beginning a whole new chapter in my art career!
Infolding/Unfolding is curated by Amy Kantgias. These reliefs and sculptures blend my love of Jungian psychology, alchemy, dreams, tarot, ritual, mythology, and shamanism with matter.  My intense exploration of mediums and technique over the years has given me the freedom to incorporate a wide range of materials in my work. Polymer, found wood, beads, plant material, birdseed, minerals, cactus, shells, bones, kozo fiber, adobe, glass, hog casing, fleece, feathers, wax, and metal have all been appropriated.
I am wildly excited about my new Threshold Series that melds handmade felt and needle felting with many of these materials. And still the common thread running through all my work is an In/folding/Unfolding of the spiritual and physical worlds to create autobiographical narratives where rhythm, balance, and harmony invite the viewer's participation.
image: Partial Eclipse, S. Szabo 
---
Jewelry + Objects 2016 – Michigan Silversmiths Guild
(L-R) Waiting… by Ron Maki; Abstract Breeze by Rose Rhodes; Ashley by Janie Fleckenstein
---
Students of Tim Widener
---
Art & Soul – Orchards Children's Services – Click here for a Detroit Free Press story about this exhibit.
October 21-November 18 2016
Tommy Wilson & Clara DeGalan – CITY PASTORAL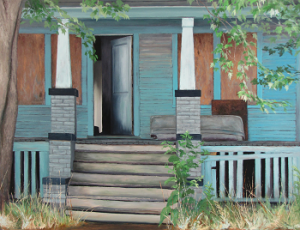 IMAGES: (top) Clara DeGalan – Celebrant, oil on paper, 80×50; Tommy Wilson – Evenings on the Porch
About City Pastoral- Work by Tommy Wilson and Clara DeGalan
Tommy and I are both spiritual people; our respective studio practices reflect that. Tommy practices Zen Buddhism- he sees the world as deeply illusory. His highly technical, closely observed paintings seem to honor the beauty of that illusion, while acknowledging his lifelong desire for something real, something solid- a place to ground and claim as home. His paintings of houses, both inhabited and empty, are studies of his inner conflict- to expose the ultimate transience of human endeavor and, at the same time, to believe- romantically, passionately, desperately- in the possibility of a permanent place to ground. A place bathed in that particular, heart-string plucking light we all know in our bones. A place we know inside and out, that will always be there, that can never hold any harm or danger for us. It's important for us all to hold that place in our hearts, whether we have ever known it personally or not. Tommy's work makes it clear, quietly and sincerely, how vital this universal home is- even as his spiritual path teaches him to doubt its truthfulness.
 I practice cafeteria-style neo-paganism- I see the world as deeply real, each experiential moment carrying a potential message or sign that opens the door to a new sliver of insight. The surfaces of my work are annotative, groundless, instinctive, and intentionally raw- visible technique is as important to me as hand skill and beauty. I like to see the bones of an image along with the meat- the first calendars humans made were vertical chains of slashes carved into femur bones. Those lunar calendrical marks find their way into my work along with pop-cultural emanations, highly rendered landscapes and still lives, and gifts from the natural world that drop, daily, onto my path. To me, all symbols, materials, and moments in history have equal value- like fairy tales, they repeat themselves, layer on one another, and draw nuggets of truth out of the strata of the observable world.
Taken together, our work, ironically opposed in philosophy and visual language as it is, unites in its pursuit of essential truth through beauty. We're both emotionally driven, romantic makers who are bringing traditional techniques into contemporary studio practice.
– Clara DeGalan
---
Shades of the Brush: Birmingham Society of Women Painters
Juried by Maria Ruggiero
---
Linda Beeman 

I am an environmental artist working exclusively in the ancient water-based Japanese art of mokuhanga – woodblock print.  Created in small editions, each print is hand painted and hand printed.  They are individual works of art – not copies – and never reprinted.
The spiritual connection that I find in the creation of the print is extremely important to me.   The process is quiet, calming and meditative.  Carving individual wood blocks for each color in the print, isolated profiles are separated and then joined again.  This exploration of forms within a space creates a deeper, intimate encounter with nature.  The emotional, physical and spiritual energy I use to create a print somehow becomes imbedded within it to reveal the heart and spirit of a location.
I am taking you to a destination, a secret place that you can experience and will want to know personally.  Creating a sense of stillness and peace and shelter…… the journey awakens you to the vulnerability of our natural spaces.  The significance of protection is stimulated.
The rarely noticed or hidden becomes elevated to the sacred.