2016 MFAC Prospectus
34th Annual Michigan Fine Arts Competition
June 24-August 26, 2016
MORE THAN $5,000 IN CASH AWARDS
Timeline:
Wed., April 6—Online Application Process Begins
Wed., June 1 —APPLICATION DEADLINE extended: Fri., June 3, Midnight EST
Mon., June 6 (by the end of the day ) — Juror Results Posted on BBAC website, BBArtCenter.org — Wed., June 8   
This date was changed to Fri., June 10.
For the list of invited artists, 
CLICK HERE
.
Mon.-Fri., June 13-17—Intake:  10am–4pm + Sat., June 18—Intake:  Noon-4pm
Thurs., Jun. 23 (by the end of the day)—Award Notification (by email)
Fri., Jun. 24—Exhibition Opens; Reception & Awards Presentation 6-8pm
Fri., Aug. 26—Exhibition Closes at 5:00 PM
EXHIBITION OUTTAKE
Sat., Aug. 27—:  10am–4pm
PLUS — Aug 29-Aug 31, 10am-4pm
Eligibility
Participation is open to all artists 18 and older, living and working in Michigan, Ohio, Indiana, Illinois and Wisconsin.  Original works in all media (except video or canvas/gallery-wrapped copies) created and/or finished after January 1, 2015 will be accepted for jury providing those works have not been previously exhibited at the BBAC.
Online Application Procedure for MFAC
An artist may submit up to two (2) entries. The $40 fee covers one or both.
For 2-D art, an artist may submit one image per entry. For 3-D art, an artist may submit up to two images per entry.
IMAGE INSTRUCTIONS FOR ENTRY/ENTRIES – Note that the juror will consider only one image for 2-D work & up to two for 3-D work. The Call for Entry site allows up to four images, two each for two entries. For 2D work, ONLY ONE (the first uploaded) IMAGE will be considered by the juror.  If you are uploading more than one image for a 3D piece, please label as "title of piece" & "title of piece-DETAIL" so the juror is clear on what he is viewing.

Please refrain from using/showing your name in the image(s).
Image(s) must show all components that will be displayed, even if one or more are simply for display purposes.

Please DO provide specific details; e.g., oil on panel; mixed media – clay, wood & found objects (not just "mixed"); acrylic on canvas with sewing threads, etc. The juror wants to know as much as possible about your artwork.
Entries will be juried online only.
All applications will be processed online through CaFÉ™ at CallForEntry.org. CaFÉ™ is free to participating artists and includes detailed tutorials. After reviewing our prospectus and the CaFÉ™ tutorial, if you have questions contact us via phone or email, and we will assist you. (248.644.0866; Info@BBArtCenter.org – please put MFAC in the subject line)
$40 jury fee per entrant (non-refundable) payable by Visa or MasterCard only.
Presentation Requirements
Artwork must be "gallery ready." Sawtooth hangers and clip frames will not be accepted.  All 2-D/wall-mounted work must be wired for hanging.
Maximum height of any artwork is 9′ (ceilings: 10′).
Entries accepted for final jury must be delivered or shipped to the BBAC.

If delivering: Artwork will be accepted Mon.-Fri., June 13-17, 10am-4pm & Sat., June 18, Noon-4pm. For shipping information, see below.
If shipping: ­Accepted artists are responsible for shipping their work to and from the BBAC and insuring it while in transit. Works must be shipped to the BBAC.  The artist must contact the BBAC's Director of Exhibitions –  AmyKantgias, email: Exhibitions@BBArtCenter.org – in advance of the shipment, informing her of the method and date of shipment (please reference 'MFAC shipping' in the subject line).  Shipped work will be accepted Monday, June 13 – Friday, June 17.  Works must be shipped in re-usable containers with photographic documentation for re-packing. Ship accepted work to: Birmingham Bloomfield Art Center, 1516 South Cranbrook Road, Birmingham MI 48009, Attn: Amy Kantgias
Logistics
Each accepted work must be identified with the following information: Artist Name, Address, Phone #, Email Address; Title; Media; and Price/NFS. (If the work is NFS – not for sale – an insurance value must be stipulated or the work will not be accepted for the exhibit.)
The BBAC will accept responsibility for the works of art during the exhibition, but will not be responsible for any works delivered in damaged condition.
Artists wishing to otherwise insure their work should contact their insurance agents directly.
Condition reports will be made for each work upon arrival. Artists must note the number of parts or pieces per entry if more than one part or piece.
Work MAY NOT, for any reason, be removed from the exhibit prior to the end of the exhibit.
Maximum height of any artwork is 9′ (ceilings: 10′).
The BBAC is not responsible for work damaged if it is not picked up on Sat., Aug. 27, 2015, 10am–4pm. Artists whose work is not picked up by that time may incur late charges.
Agreement
Submission of a work for jurying shall constitute an agreement to comply with all the conditions set forth in this prospectus. The juror reserves the right to a final selection of accepted works.  The decision of the juror is final.
All accepted work will remain as placed by the installation team and may not be withdrawn before the close of the exhibit.
If a piece is of a delicate nature or easily damaged, please work with the exhibitions coordinator during intake for placement and installation.
The juror and/or BBAC may exercise the right to reject any work not accurately represented by image; work that fails to meet eligibility requirements; work that exceeds gallery size limitations; or work that is not shipped properly or does not arrive on time.
Sales
Artists are strongly encouraged to submit art that will be for sale.
Work available for sale will be sold at the price indicated on the entry form only. No price changes permitted after acceptance into the exhibit.
A 45% commission is retained by the BBAC on all sales made during the exhibition, to support the competition and the BBAC's exhibition, education, and outreach programs.
Rights & Reproductions
The BBAC reserves the right to photograph exhibited work and use either these photographs or the artist's entry images in both print and electronic materials for publicity, promotion, education, and future grant proposals.
BBAC Gallery Hours
Mon.-Sat., 9am-5pm
About the juror:  Terence Hammonds
Printmaker, Terence Hammonds received at BFA from the School of the Museum of Fine Arts, (Boston MA) in conjunction with Tufts University. His work is informed and inspired by the struggles and determination of African-Americans seeking equality during the Civil Rights Movement of the 1960s and fuses imagery from that era with soul, funk, rap and punk music. Hammonds appropriates imagery from various movements and Civil Rights history and combines them with decorative motifs and patterns that adorn, memorialize, and abstract histories of racial identity in America.
Hammonds was born in Cincinnati, Ohio in 1976. He attended the School of the Museum of Fine Arts, Boston (Fifth year certificate, 2002; diploma,2001) and Tufts University in partnership with the School of the Museum of Fine Arts, Boston (BFA, 2002).
His work has been exhibited at Contemporary Arts Center (Cincinnati OH); Crystal Bridges (Bentonvile AK); The Wadsworth Atheneum (Hartford CT); and the Museum of Fine Arts (Boston MA). His work is in many private collections and in the collections of the Museum of Fine Arts (Boston) and The Cincinnati (OH) Art Museum.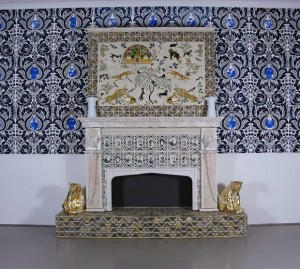 living room fireplace & wallpaper (made with Katie Parker & Guy Davis)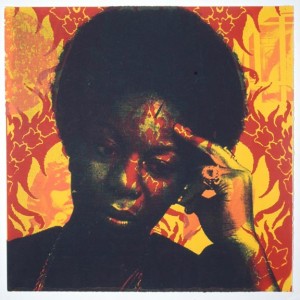 Nina – screenprint on paper, 24″ x 24″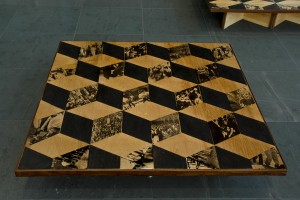 get up on the downstroke – 48″ x 48″, pencil & screenprint on birch
This last image shows part of an interactive installation by Hammonds that includes wallpaper, a HiFi set & several dozen Motown records. Click here for a piece about the exhibit that featured the "installation dance party."
Birmingham Bloomfield Art Center
1516 South Cranbrook Road, Birmingham, Michigan 48009
248.644.0866 •  BBArtCenter.org
About the BBAC
The Birmingham Bloomfield Art Center has been providing "art for all" since 1957 and is a regional non-profit art center committed to promoting visual arts experiences.  Each year more than 500 classes are offered for all skill levels and ages preschool to senior citizens.  Throughout the year, nearly 9,000 individuals are served by classes, workshops, art camps, ArtAccess programs, special events,  and exhibitions that are free and open to the public (with an additional 75,000 impacted by Art Birmingham, the BBAC's annual fine art fair).   The BBAC also supports hundreds of artists each year, with opportunities to teach, exhibit, and sell their work.  The BBAC is a 25,000-square foot facility, with nine classroom studios, four exhibition galleries, and a retail Gallery Shop.  
The BBAC is supported by the Michigan Council for Arts and Cultural Affairs and the National Endowment for the Arts. For more information, visit the BBAC at BBArtCenter.org, phone 248-644-0866 or visit our Facebook page.